How to create a rule
Overview
Rules save you time by automating repetitive processes. More information about understanding team and individual rules can be found in the Understanding rules article. 
For a full list of rule conditions, see the Guide to rule conditions. For more examples of popular rules and how to set them up, visit our Rules Directory. 
---
Instructions
Step 1
Determine whether you need to create an individual rule or a team rule. Individual rules will apply to private conversations in your individual inbox. Team rules will apply to shared conversations in team inboxes.
Step 2
Go into your Settings and select Personal Settings > Rules for individual rules, or Company Settings > Rules for team rules. Let's create a team rule for this example. 
Step 3
Click Add a team rule to open the rule editor.
Step 4
Give your rule a name based on what the rule will do for your team.
Step 5
Use the When, If, and Then conditions to customize the rule to your needs. The possibilities are endless for you to automate actions in your inboxes. 
In this example, we are setting up an auto-reply to be sent after we receive a support inquiry. This rule is stating that an inbound message into the Support inbox will be automatically replied with the message template Request Received. See this article for an in-depth guide on setting up auto-replies.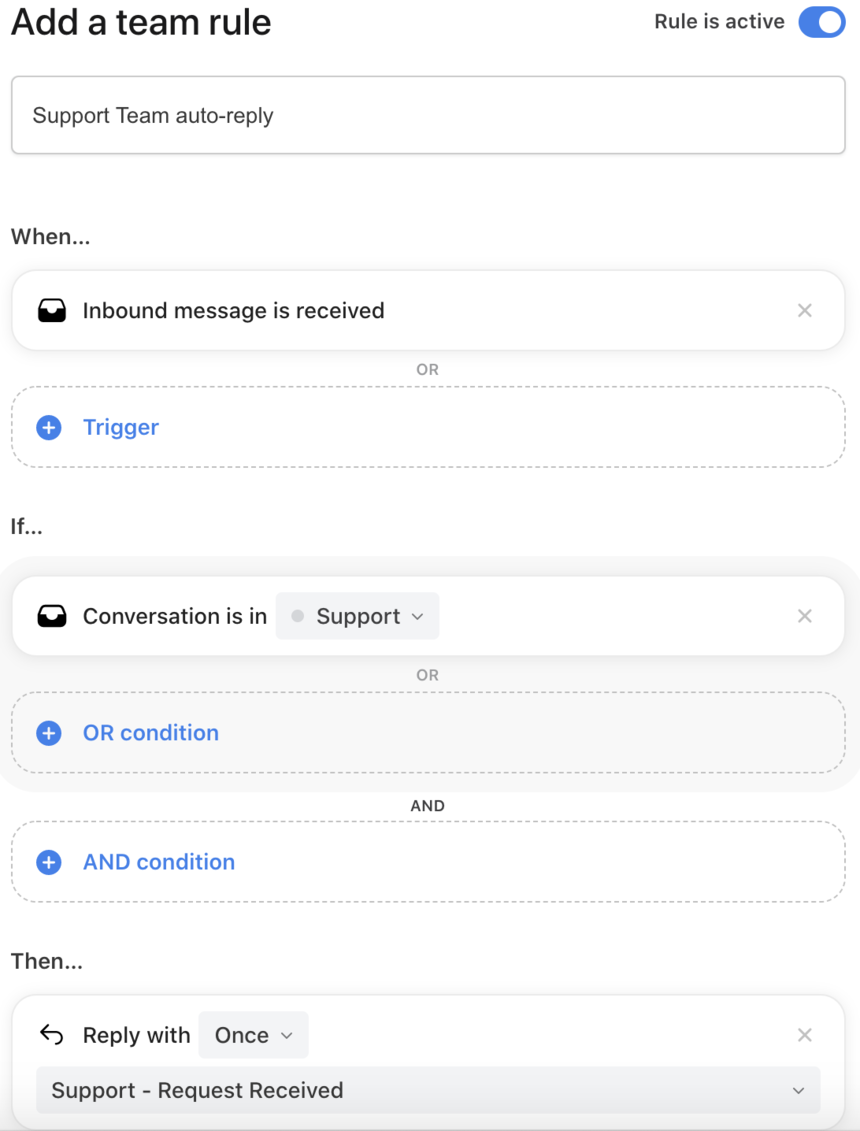 Step 6
Once your rule is complete, click Save.
---
Quick rules to move messages from senders into a tag
You can also quickly create rules directly from an individual email or private tag. These quick rules allow you to easily set up a rule to move an email into a private tag based on the sender of that message. You can also manually create private rules to file your messages into tags.
---
Rules library
Front's rules library provides a place where teams can discover and create rules in a few simple clicks. Use our rules library to automatically create and build rules for your team. For more information, check out this article.
---
Pricing
Some rule conditions are available on the Starter plan, while Advanced conditions and custom rules require the Prime plan or above. Some legacy plans with different names may also have this feature.