New for Admins: August 2018
We're always working to make Front better for you and your team, so we've made some improvements for you 🎉
If you have any questions about these updates, please reach out to us — we're happy to help.
---
Integration news
⚡WhatsApp early access
It's (almost) here! We're working on a WhatsApp channel for you to manage WhatsApp messages as a team in Front. Interested? Fill out our early access form to let us know.
💼 Salesforce custom objects in Front
Our best Salesforce integration update yet — now, your Salesforce custom objects are accessible in Front. Choose which fields to display and edit them in real time, just like standard objects.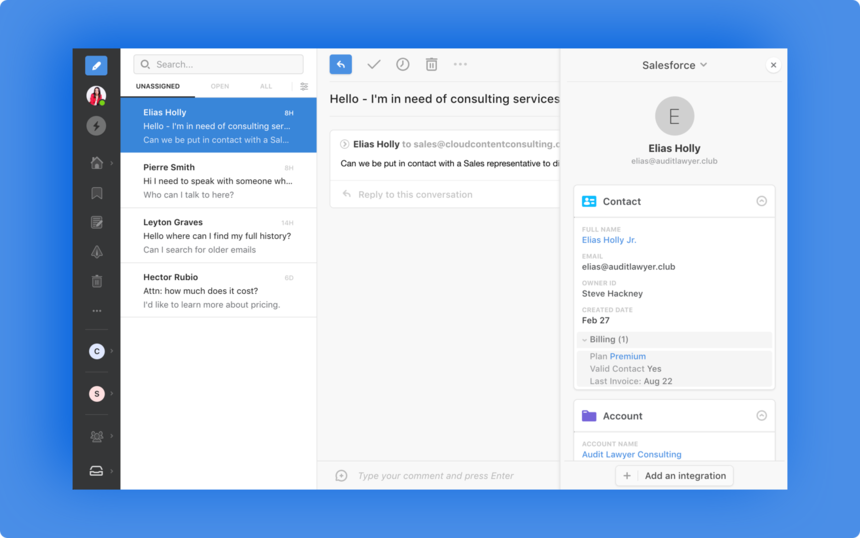 ---
Product updates
🔒New SPF/DKIM settings for email deliverability
If you use SMTP channels or Google Groups in Front, configuring SPF/DKIM records is critical to ensure your emails aren't marked as spam. Until these records are validated, new warnings will direct company admins to Deliverability Settings to set them up.
💬 Split text and chat conversations
Have one long thread with too many tags? Now, you can split SMS, Front Chat, Facebook, Intercom, and Smooch conversations into separate threads. Keep your tracking clean with different assignees or tags on each thread.
✅ Recognize users in Front Chat
Automatically recognize your logged-in customers with Front Chat's new identity verification for web and desktop apps. Instantly see who the user is and their status to deliver a great chat experience to every customer.
📈 New filters for analytics reports
Customize your analytics reports with new filtering options to get more granular insights. Select any combination of inboxes, channels, teammates, and tags to include only those conversations in your report.
---
Helpful resources
💪 How small teams can best serve big clients
Learn how a team of three people serves thousands of companies, from startups to Fortune 500 companies like Walmart, across multiple channels and time zones using Front.
📈What you can learn from inbox analytics
Do you know how many emails you receive or how quickly your team is responding? With Front's analytics, you can get these insights to improve your team's productivity.
---
Want more Front news?
Be sure to bookmark the Front Changelog to get our latest app updates, our Roadmap to see what's coming next, and our blog to read more stories.