Analytics - overview of a report
Overview
Every analytics report you create will have the same structure with certain key metrics built in, so let's familiarize ourselves with those components. You can always export the activities if you want to do further analysis on the data.
---
Report dashboard
A. Tabs
The top left corner of the report shows tabs of the four main categories in the report:
Conversations: volume of messages sent and received
Team: performance of individual teammates
Productivity: summarizes company averages
Customers: lists all customers you've interacted with
B. Date range
You can set the date range for the report by selecting one of the pre-set options or by setting your own custom date range. By default when you first open Analytics, Front will show the previous week. Click the date to adjust the range, and the report will automatically reload to the new date(s). Click on the arrows to quickly jump to the previous day/week/month/year.
C. Current and Previous toggle
Front will automatically compare the Current metrics with the same metrics in the previous date range. If you are toggled to Current, you will see color-coded comparison metrics below the main metrics. Blue numbers mean an improved performance compared to last week, whereas red numbers indicate a worsened performance for that metric.
If you toggle to Previous, you will see the previous date range's metrics without the comparison metrics. When applicable, the graph at the top will also adjust to Current or Previous. The toggle will also adjust the line graph to highlight either the Current or Previous range.
D. Business hours
Business hours are the times when your team is expected to reply to customers. Setting your business hours allows Front to calculate more accurate analytics for you if you have specific hours of operation, and exclude the hours that you are off. Reaction time, response time, and resolution time that happen outside of your business hours are not counted (if you export your analytics report, you will see a 0 in these activity lines).
For instance, if your business hours are weekdays 9:00am to 7:00pm and you receive a message on Thursday at 6:30pm, then you answer Friday at 9:30am, the response time will be 1 hour.
Click on the Business hours button on the top right to define business hours for your team, and you will see a pop-up window.
The business hours are always defined according to the person's time zone who set those hours. They also do not work retroactively: if you change them, it will only affect future conversation metrics that follow business hours. Disabling business hours means that all days and times count in the analytics calculations.
If you're using Teams with Front, you can also adjust business hours per team, as they will be applied to whichever team you are working with in the left-most pane.
E. Export
The export feature will allow you to generate CSVs of your data from the Analytics dashboard, which includes more data than the metrics shown in the dashboard. Click on the Export button on the top right to choose your export type:
The three export types are:
Messages export: Organized by messages, with one line per message and its corresponding details.
Full events export: Organized by each activity that occurred and its corresponding details for the selected date range.
Daily volume export: This is a zip folder with 3 files, each organized by day of the week (Sunday-Saturday) and summarizes…

Inboxes - the number of inbound and outbound messages per inbox
Tags - the number of inbound and outbound messages for each tag
Teammates - the number of inbound and outbound messages for each teammate
Check through the Columns to make sure you have checked off all the items you would like to display in the export. Once you've made your selections for the export, click Request export and a new line will appear preparing the CSV. Then click the download button to save the CSV to your computer.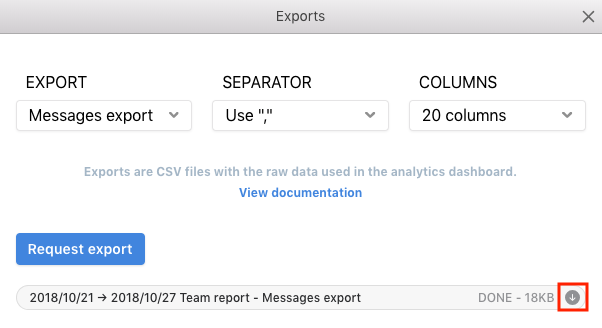 For a full breakdown of each export and its metrics, see the understanding exports article.
F. Graph
Based on which tab you're clicked into, you may see a graph that visually summarizes some key information about the section's metrics. Some graphs also have an additional dropdown to specify what metrics you want to see.
Conversations table example:
G. Main metrics
Each of the four main tabs has a different set of main metrics on their dashboard specific to what that category focuses on. For instance, the Conversations tab has metrics regarding the volume of conversations you received for the date range, while the Productivity tab shows metrics about the speed and volume of your outgoing responses.
Conversations metrics:
H. Table
Each of the four main tabs also has a unique table that displays further details about the category. For instance, the Team tab has a table that shows each teammate's activity during the date range, while the Customers tab displays a table with your most active customers who you've interacted with.
Team table example:
---
Key analytics terms
Use this section as a reference for terms used in the analytics articles.
Conversation
Any thread that has at least one message. In the context of analytics, conversation is better defined as a segment (see below).
Segment
A segment is any new or revived conversation. Some channels, such as chat or SMS, technically do not ever end; customers may always be replying in the same conversation, even if they want to talk about something new. If an existing conversation receives a new message after being inactive, it will be considered a new segment in the analytics. The same thread can have several segments and be counted several times as new conversations. If you use the split conversation feature to create a new thread, it will be considered a new segment.
You can specify per channel how long it takes for a segment to go inactive, by clicking into Settings, click Inboxes, click the inbox, and adjust the Conversations become inactive after option. Depending on your use case and channel type, you may want to have some channels with shorter inactivity periods.
Inactive conversation
By default, conversations become inactive after 5 days with no activity. The inactivity period is the length of time that a conversation should have no new activity in it before going inactive. You can change this value in the channel settings of your inbox - see screenshot in Segment.
Message vs. conversation
A message is created every time someone clicks Send. There could be one message or multiple messages within a conversation or segment.