Send, Send and archive, and Send later
Overview
Front allows you to send a message three ways. All options may be found by clicking the Send button dropdown.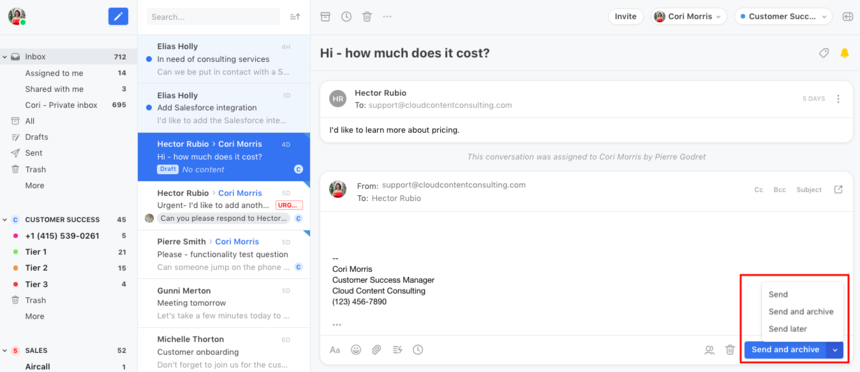 ---
Send
By clicking Send, you are only replying to the message. The thread will remain in your inbox. You may decide to only Send a message because the issue you are handling is still open.
---
Send and archive
Clicking Send and archive means that you've replied to the message and closed the issue. The conversation will be removed from your inbox, but can be viewed again through Search or in your All folder.
---
Send later
The Send later feature allows you to schedule an email to be sent at a later time. Maybe you're working over the weekend, and don't want to send emails because they'll get buried in your recipient's inbox. By using Send later, you can ensure they receive it during business hours. When using this feature, the message will remain in your inbox even after it is sent. You can archive it once it has sent.
Upon clicking Send later, you can select when you want the message to be sent.
As soon as you select the time, your message will show that it's set to send later at the time you've selected. You can also cancel this if you wish.