How to create canned responses
Overview
Canned responses are predetermined responses to common questions. They allow you to respond faster to inbound messages, and lessen the repetitive nature of replying to frequently asked questions.
Front allows you to create individual and team canned responses. Individual canned responses are visible to only you, and team canned responses can be visible to your teammates on a per inbox level. Both admins and non-admins can create canned responses.
There are two ways to create a canned response.
---
Instructions from Settings
Step 1
Choose whether you want to create an individual or a team canned response.
Step 2
For individual canned responses, go into your Settings and select My responses. Individual canned responses are accessible only to you and can be used in any inbox. For team canned responses, select Responses. Team canned responses can be used by any teammate.
For those on the Enterprise plan, team canned responses are set up per Team.
Step 3
Click Add a canned response.
Step 4
Create your canned response. Front supports variables as well. Format your canned response by highlighting the text you want to edit.
If you add a subject, the subject of the conversation will change every time you use the canned response. It will override the previous subject.
Step 5
Once the canned response is created, turn the toggle to select what inboxes you want the canned response to be visible in.
Step 6
Click Create.
Step 7
Now it's time to use the canned response. Click the canned response icon to pop up your list. Choose the response and your message will be drafted. Make edits as you wish before sending.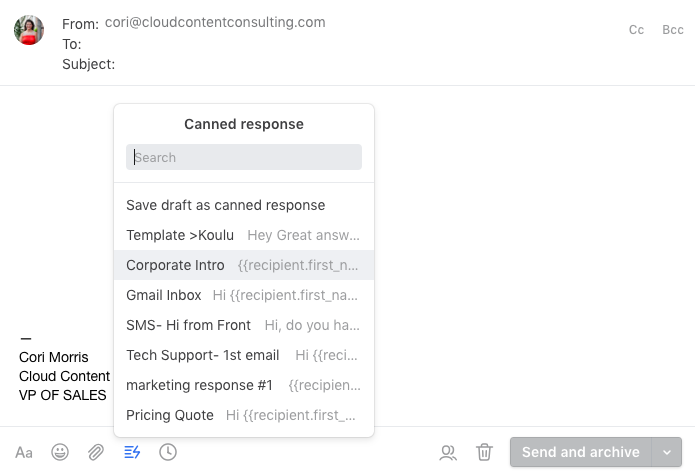 ---
Instructions from Composer
Step 1
Compose a new message.
Step 2
Click the canned response icon to pop up your list. Select Save draft as canned response.
Step 3
Enter the name of your canned response. Then click Create. This canned response will now be available for future use.
Canned responses are fantastic! Thank you! A great addition for us would be a way to include a placeholder within canned responses which had to be replaced before sending became possible. To avoid team members accidentally sending an email containing a placeholder symbol (in cases where variables aren't appropriate / available).

Hi Laura,

Sorry for the delayed reply.

This shouldn't be the case. Could you please provide me with the conversation ID for the message you are experiencing these issues with? Feel free to email it to team@frontapp.com

You will need to click on the "i" next to the subject line, and copy the Conversation ID. Please share it with us so that we can investigate.

Hi,

We loved the templates but since the update we cannot use some of them. I explain it appears that some aprt of our templates that should modifiable are not anymore. As per my pdf attached, we shoukd be able to modify the part in red but we cannot. Those are past from Word, could this be the issue ?

question or suggestion: is there a way to automatically fill in a contact in the To: or CC: line when a canned response is selected? There is a particular canned response that I use where I always CC: a particular contact. Would be great if that was automated. I don't think it's currently doable, so maybe a suggestion for future development?

Hello. I was just browsing around this "canned responses" topic, and I wanted to look at the existing canned responses that we have access to -- like out-of-office response (there appears to be a drop-down menu at the "lines-with-a-lightning-bolt" icon). But I don't see any existing canned responses.

Does that feature still exist? Thanks.