How to set a default signature for a channel
Overview
You may have several signatures set up for different email addresses, in which case you can set a default signature for each channel so that it automatically populates when you select the channel to write from. 
For team signatures, you must be an admin or have the permissions within Front to edit signature settings. See these steps on how to create or edit a team signature.
---
Step 1 
Go into your Settings.
Step 2 
Click Signatures under your team.
Step 3
Click on the signature you would like to set as default.
Step 4
On the left, click Channels.
Step 5
If you would like to restrict the signature to a specific channel, disable the Signature visible for all team channels option. Uncheck any channels that you don't want your signature to be available in.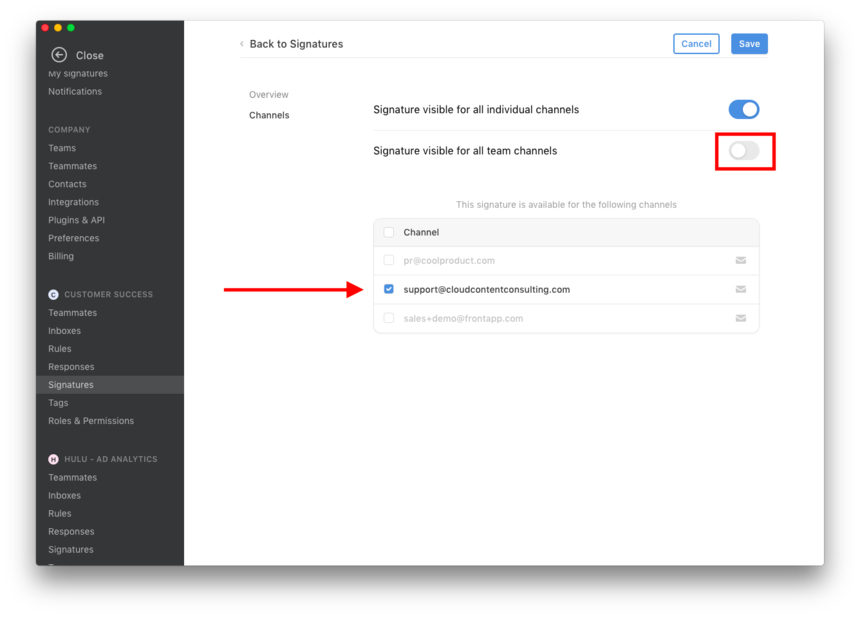 Step 6
Click Save.
---
FAQ
Can I set a default individual signature?
Yes, you can set default individual signatures for any individual or shared channel as well. Follow the same steps as above, except you will click into your Personal Settings and then into Signatures to set that up.
Why does my individual signature show?
If an individual signature is visible to a team channel, then your individual signature will end up being your default signature for that team channel. Make sure your other individual signatures are not visible to the shared channel where you have set up a default signature.