How to see contact details and communication history
Overview
Contact details makes it easy to see more information about senders and recipients and check past conversation history. With this customer view, you can check how teammates have handled their past questions, see and update data like their phone number or company name, and add internal notes for context.
You'll see all past conversations with the contact across all channels in Front (email, texts, Facebook, Twitter, etc.) in the inboxes you have access to. You will not see any conversations with the contact from team or individual inboxes you do not have access to.
---
How to access contact details
The contact details panel can be found in the integration switcher in the upper right corner of Front. It is available for all users by default.
If you do not see contact details in your integration switcher, you can add it by clicking on the + button in the switcher bar, then pinning contact details to add it as a favorite.
What you'll find in contact details
Contact details is separated in three tabs for a complete view of your customer:
Activity: past conversations with this contact across all channels you have access to
Details: all contact data (email addresses, phone numbers, Twitter handles, custom fields, etc.) and contact groups they belong to
Notes: add notes that can be shared with your teammates or kept private, and see other notes added by your teammates
Front will remember which tab you work from and open it when you switch between conversations. For example if you always need Details open, that will be the first tab you see when opening a new conversation.
If there are multiple contacts in your conversation thread, you can select which contact you'd like to see details on using the drop down on the top-right corner.
Activity
The Activity tab shows past conversations with the contact, across all channels you have access to in Front. For instance, if Lisa messages your team over text and email, and both her phone number and email are added to her contact record, you will see texts and emails from her here.
You can see at a glance:
Who the conversation was assigned to (if any) in blue
Time since last activity in this conversation
Inbox of the conversation
When you click on a conversation, it will open in a new window for you to read through the full history.
Details
Details will show all information about this contact:
All contact data (email addresses, phone numbers, Twitter handles, custom fields, etc.)
Contact groups they belong to
You can quickly copy-paste any of the contact data attributes by clicking on the copy icon that appears when you hover above the attribute. You can also edit them by clicking on the edit icon in the top right.
Notes
Notes allow you to write down anything you want share with your teammates for context and are a great way to add reminders for yourself later. When you add a new note, you can choose whether to share it with your team or keep it private.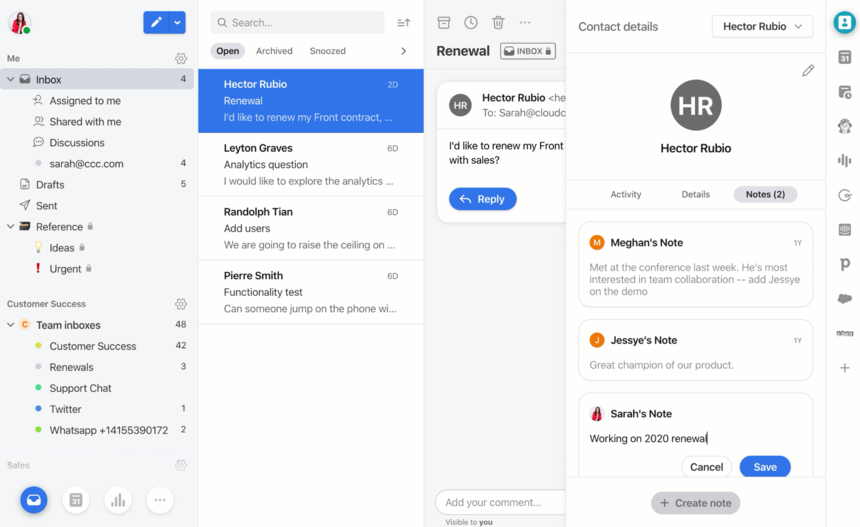 Recent Communications indicator
When you're replying to a customer who has other recent conversations in inboxes you have access to, you'll see a banner notifying you about those conversations. You can then click View to see these recent conversations in the Contact details panel.
Below is a quick video explaining the feature: