How to enable and use the Forumbee plugin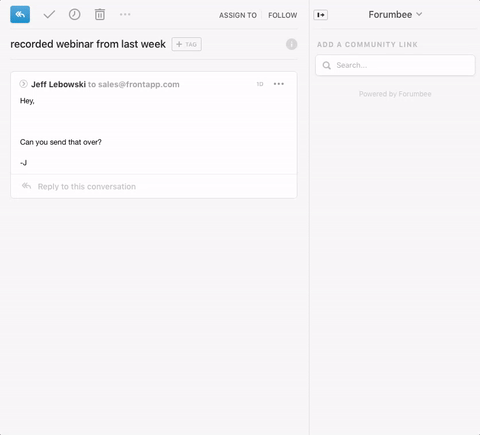 Like integrations, you need to be an admin in order to set up the Forumbee plugin.
Forumbee provides branded community forums for customer discussions, feedback, support articles, and more. This plugin brings your Forumbee knowledge base to your fingertips in Front, so you can search your Forumbee community topics and articles and easily add links to them in your emails.
---
Step 1
Log in to your account from the Forumbee website.
Step 2
Go to your Dashboard, select Integrations, and Front.
Step 3
Copy the URL provided.
Step 4
Now go to your Front app, into your Settings, and select Plugins & API, and Add a plugin.
Step 5
Enter the name of the plugin. In this case, we suggest Forumbee. Then paste the URL you have copied in the Endpoint box.
Step 6
Click Save to finish setting up the Forumbee plugin.
Step 7
Go back to your Front inbox view and select Forumbee from the plugin panel.
Step 8
You should now be able to search for and attach Forumbee articles to your messages directly from Front.