How to validate your inbox
Overview
After creating an inbox, you may need to validate your email. Follow the steps below to get all non-Gmail and non-Office 365 accounts validated. You will have to use the forwarding address we provide to redirect your emails.
Instructions
Step 1
Go into your Settings, select Inboxes, and select appropriate Team Inbox.
Step 2
Scroll down to your Account Settings and copy your forwarding address.
Step 3
Below is a list from other popular providers that explains how to redirect your emails. Select your provider, and follow the instructions to redirect your emails to Front.
If you don't see your provider, please send an email to team@frontapp.com .
Step 4
Navigate back to Front and click Send email.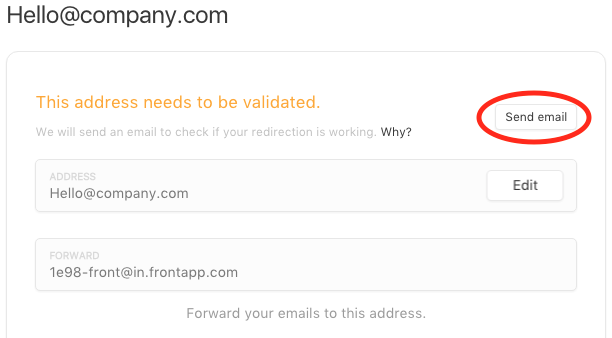 Step 5
You should receive a notification that your email address has been validated.