How to delegate your inbox to a teammate
Overview
Individual inboxes are a great way to manage your own emails, but sometimes it's helpful to give teammates or your manager access to your inbox for easier collaboration.
You can share your individual inbox with teammates in Front by using our delegated inbox feature. This feature will allow your teammates to view the conversations in your inbox, and work with you on achieving Inbox Zero by taking actions like archiving or snoozing for you. They can also reply to conversations in your inbox but will reply from their own email address (they cannot reply as you).
When you delegate your inbox to a teammate and share all sections of your inbox, they will also see any private tags you have pinned to your workspace. This allows them to access messages you have dragged from your inbox into a private tag, so they aren't missed.
---
Instructions
Step 1
Open Settings by clicking on your profile image in the upper left corner of Front, and then click My inboxes.
Step 2
Click Delegations in the left tabs menu on the My inboxes page, and then click on Add a delegation.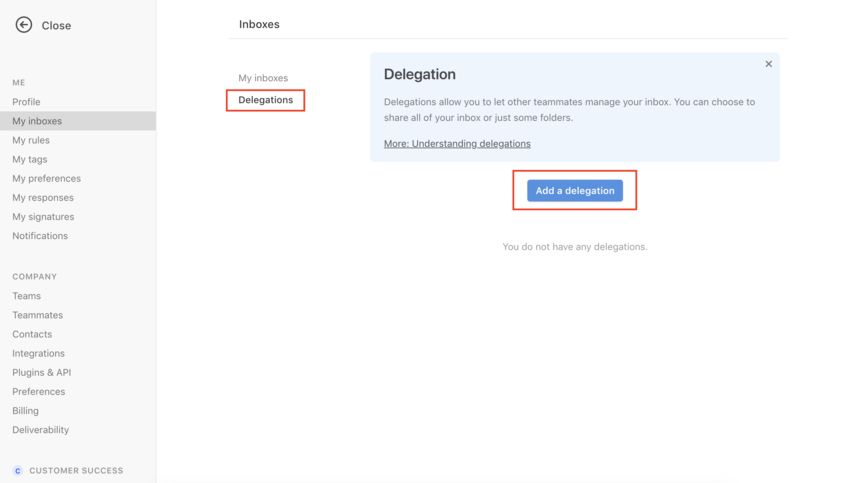 Step 3
Select the teammates whom you'd like to give access to your inbox. These teammates will have access to see your "Assigned to me" and "Shared with me" sections and any individual inboxes you have connected.
Step 4
Click Create at the top right to save your changes, and you'll see your new delegation listed. Now your teammates will have access to see your emails so you can work together more transparently! If you're highly collaborative with your teammates, it's a great way to make your workflows more efficient.
Step 5
Click on a delegation to view its details or edit it.
To delete a delegation, scroll all the way to the bottom of its details page and click Delete this delegation.
---
What teammates can access in your delegated inbox
Once you've created your delegation, any teammates with access to your inbox will see a new section in the left workspace panel of Front, with your name as the section header. The new section will be located below your Teams section, and above your Teammates section.
Below your name in the new section, they will see the same rows and counters that you see in your personal workspace: "Inbox", "Assigned to me", "Shared with me", individual inboxes, and "All". They will see the exact same content that you see when you click into these sections.
What teammates can do
Teammates can take these actions on your behalf in your delegated inbox:
Mark conversation as spam
Tag conversations with team tags or your private tags
Move conversations to a team inbox
Assign a conversation
Search for conversations in the delegated inbox
What teammates cannot do
Teammates cannot take these actions on your behalf in your delegated inbox:
Reply using your email address (they can reply using their own email address)
Comment as you (comments posted will be as them)
Block Sender
Mark as Read for you (they can Mark as Read for themselves)
Hiding or showing a delegated inbox
You can choose which delegated inboxes you want to show or hide in your workspace panel. Go into your Settings, and click on My preferences. Scroll to the setting called Delegated inboxes and use the dropdown menu to select which teammates you want to show or hide in your workspace. The teammates you select will now be displayed.
Note: When a teammate is blocked, you will still have access to their delegated inbox and you can still see their inbox history in Front. If you don't want to visually see it in your Front, you can simply hide the inbox in your preferences.
---
Advanced settings
You may have multiple individual inboxes connected to Front, like your work email address and your personal email address. If you only want to share a subset of your individual inboxes with your teammates, you can do so by toggling off Share all sections as you create or edit your delegation.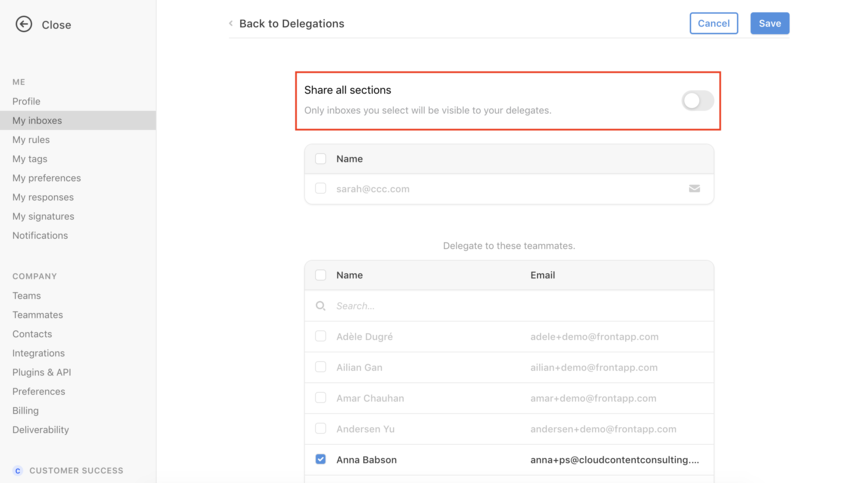 You can then select the specific individual inbox(es) to share. Your teammates will then only be able to view the contents of the specified individual inbox(es).
Note: Disabling Share all sections limits what your teammates can access from your inbox and their view of your inbox in their workspace panel. When Share all sections is disabled, teammates will not see your Assigned to me or Shared with me sections or your pinned private tags, and they will not see your inbox counters. Share all sections does not impact what the teammate can or cannot do within the inbox; this stays the same regardless of whether Share all sections is disabled or enabled.
---
Analytics in delegated inboxes
When you delegate your inbox to a teammate and they help send replies for you from their own individual channel or from a shared channel, the analytics will be recorded in your teammate's individual analytics report or the team report, instead of in your individual analytics report.