How to move conversations to another inbox
Overview
Moving a conversation is helpful when you want to pass a conversation on to another team. Unlike traditional email forwarding, moving conversations allow you to hand off a thread from one inbox to another to make sure your customer is helped by the best team possible.
You can move your private conversation to a shared inbox, but you cannot move a a shared conversation into a private inbox.
---
Try the following two ways to move a conversation to another inbox in Front:
Drag-and-drop method
To drag and drop, click on the conversation you want to move and drag it to the appropriate team inbox.
When to use drag-and-drop: Use this method for the fastest and easiest way to move conversations to team inboxes you have access to.
Search and select
When to use search and select: Use this method to move messages to inboxes you don't have access to, as they will show up in the search results.
Private conversations
To search and select an inbox to move the private conversation to, click "..." located at the top of the conversation and search for the appropriate team inbox.
Shared conversations
To search and select an inbox to move a shared conversation to, click the inbox name on the top right and choose or search for the destination inbox.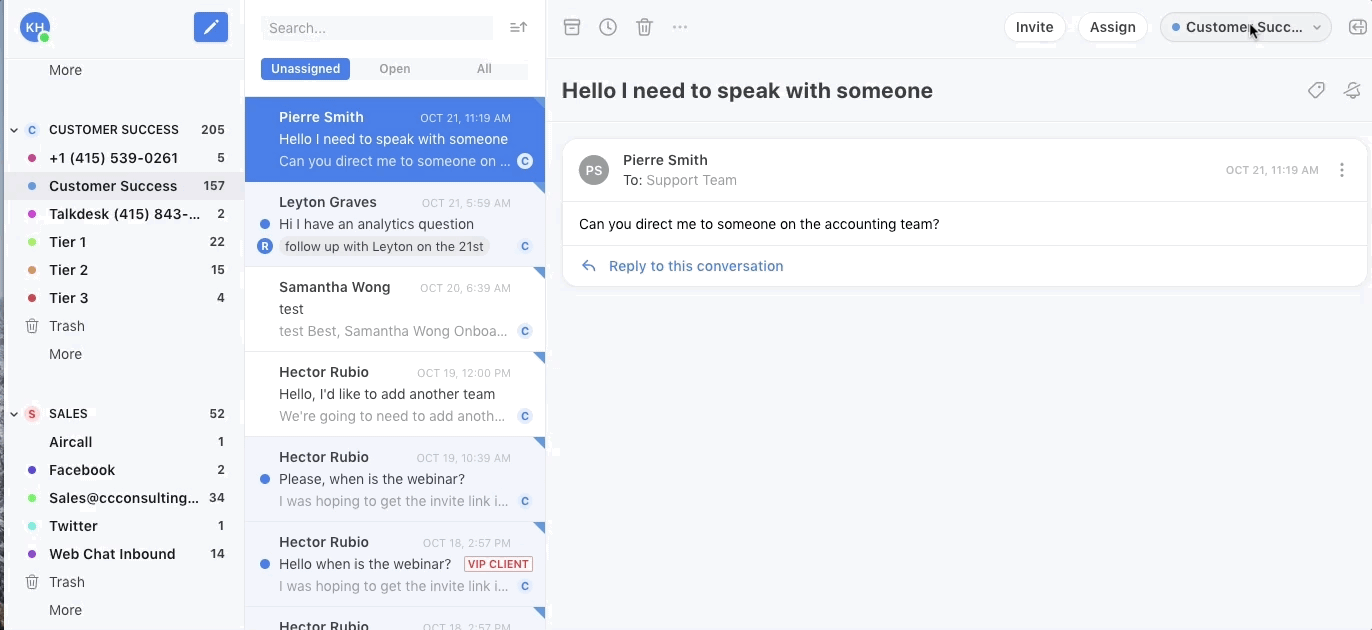 ---
FAQ
Can you move a shared conversation back to private?
Once a private conversation has been shared, there is no way to make it private again.
Helena Li It does but it doesn't, because there are thousands of conversations. And after moving them, it unassigns and opens them up.

It was suggested to me that we ask our team members to just "retire" the folder by clicking the "eyeball" so it doesn't clutter their view, but still be able to see those conversations in a search.

Steve Shackley Hi Steve, rules are not retroactive, so they aren't able to work on historical conversations that you've already archived. However, moving forward, you could create a rule that will move your conversations upon archiving. The rule would say something like "When archived, if inbox ___, then move to inbox ___." This will catch the archived conversations moving forward, but the historical archived conversations will need to be moved using the "move channel" method or by bulk selecting and moving manually.

Auto-archive emails on "move"

This very basic rule was helpful to me when moving a few thousand messages from one inbox to another.

I still had to manually (cmd + select) thousands of emails, but at least I didn't have to go to the new inbox and archive all of them afterward.

Hope this helps someone!