How to add a Google Group
Overview
Follow these instructions to add your Google Group to your team workspace in Front. A Google Group is a free mail option that Google provides to companies who want to easily distribute mail sent to a single address to a group or team of people.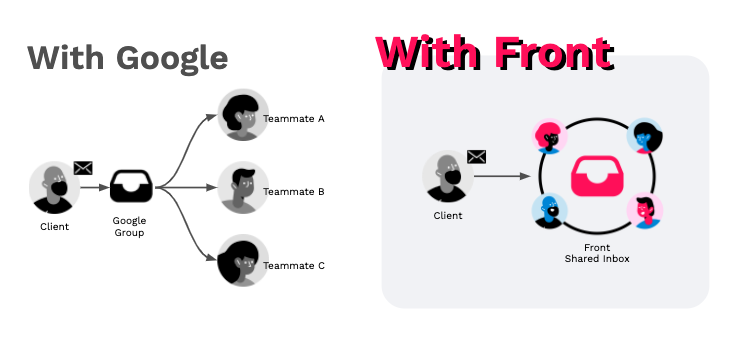 ---
Prerequisite for adding a Google Group to Front
The person who adds the Google Group needs to be a Front administrator.
You need to have a Google admin role that allows access to Groups to be able to complete the setup - Super Admin or Groups Admin.
Update your Google Group access settings so external addresses can publish posts. Also, make sure the Google Group allows members outside your organization to be added as a member of the group.
---
Helpful information before you get started
Google Groups are set up using email forwarding so Front will only have access to emails moving forward, no historic context.
All historic Google Group emails will reside in individual teammate Gmail accounts, which Front can import history from.
Remove any individual members of a Google group who will be joining your Front team. Because a Front inbox is collaborative, team members will have access to all emails imported from the Google group. 
If a team member is not removed from the Google Group prior to activating Front, they will receive a duplicate copy of every email that comes into the Google group-- one in the Front team inbox, and one in their private Front inbox. 
Consider converting your Google Group into a Gmail account, especially if you want to retain a record of all messages sent from your Google Group and to take advantage of Front's API sync capabilities. There will be a Google Workspace license cost associated with making a Google Group a Gmail account.
---
Instructions
Step 1
Click into your Company settings.
Step 2
Click on Inboxes on the left menu and Add a team inbox.
Step 3
Choose a name for your inbox, and write a description if you'd like. Click Create.
Step 4
Choose Google from the channel menu, then select Google Group, and click Continue.
Step 5
Enter the email address for your inbox.
Step 6
Follow the steps on the screen to complete setting up the forwarding in your Google Group access settings.
Step 7
Navigate back to Front and click Test connection to validate the forwarding is set up correctly. If you have trouble validating, please contact us for assistance.
Step 8
Once you've successfully validated the email forwarding connection add SPF/DKIM records to your DNS. This will give Front proper authority to send emails on behalf of your domain and ensure uninterrupted email deliverability. More information about SPF/DKIM can be found here.
Step 9
Choose the teammate access for this inbox, and whether you'd like to pin this inbox for teammates.
Step 10
Complete the remainder of the inbox settings, and click Finish.
---
Frequently Asked Questions
How do I remove the Google footer on emails I send from Front?
You can remove the footer following this Google help article.
How do I create a new Google Group?
To create a new Google Group group by clicking the Create group icon in the upper-right corner of the page.
If you create a new group:
Give it a name
Give it an email address (be sure it matches the email address you've added into Front!)
Set access level to Team
check the box to allow anyone on the internet to post a message
Click on Create a new group when done.
You can also find instructions on how to create a new Google Group here. The Google Group will need to have these minimum permissions:
Note: All outbound mail will be sent for Google Groups via Sendgrid. You will want to set up your SPF/DKIM records to improve your deliverability.
---
Pricing
All plans have access to this feature.
---
Hi Eric,

According to this link, it looks like this can be disabled in your settings in Google Groups for Business.

Hi Cori,

That's correct there are some settings in Settings > Email options > Email footer where you can remove everything, including a "Display how to unsubscribe from this group by email." option. However looking into this a bit yesterday it sounds like this unsubscribe remains for members outside the Google Apps organization, such as the Front forwarding address. Presumably that's for CAN-SPAM, etc. compliance.

There's probably a workaround entailing a new user/address where I could forward to both Front and the group, or perhaps making frontapp.com a domain alias for the entire org to "whitelist" it for Google Groups. But those solutions involve extra cost and noise in our Google account, it'd be nice if Front could strip that footer as part of the Groups integration.

I've figured out how to get rid of the unsubscribe footers. Hopefully, Google doesn't "fix" this.

 

In the Group settings page on the Admin Console make sure "Allow members outside your organization" is set to NO. This may seem incorrect because the Front domain is obviously outside of your Apps domain, but it disables the footer yet the emails will be delivered to Front normally.

Matt Wielbut thank you for this solution, couldn't find it else where. It does the trick indeed if we respond to one message only. for the correspondant it appears without the line. However, when the correspondant answers to our first message and we respond back, the line appears again at the bottom of the conversation. Does it happen to you as well ? 
Cori Morris any updates on a newer solution ?

Thanks all!