Adding an individual inbox
Overview
You likely started using Front to manage team inboxes more effectively, such as your info@company.com, and now you may find it convenient to add your individual inbox to Front as well. This way, you can check all of your email in one place and work in Front full time. Individual inboxes are private by default, but you can share conversations with teammates in a variety of ways, documented below. A teammate can have up to 10 individual inboxes on their Front account.
---
Instructions
Step 1
Go to your Personal Settings, click on Inboxes, and click Add an individual inbox.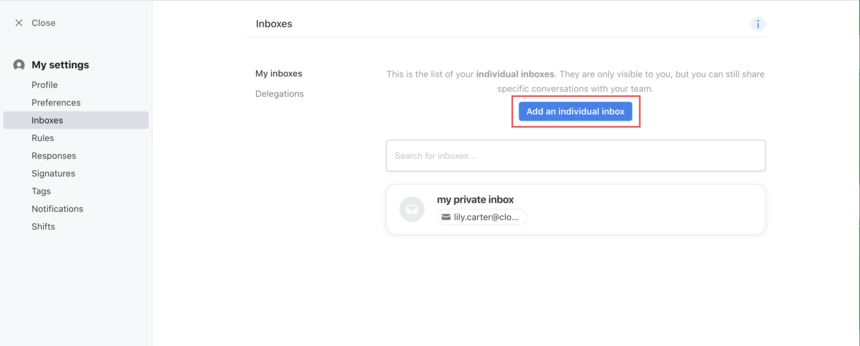 Step 2 
Fill out the name and description of your inbox. Click Create.
Step 3
Choose a channel type from the menu. The most common individual channel type is Email.
Step 4
Follow the steps on screen to complete setting up for the channel type you've chosen. We have specific setup guides for the different channel types in this section of our Help Center.
Step 5 
Click Finish to complete.
---
Privacy and sharing
By default, emails arriving in your individual inbox will stay private unless you choose to share them with another team member.
Share specific messages
To share specific message from your individual inbox, you can take any of the following actions: 
Share whole private inbox
You can also share your entire individual inbox with a teammate if you'd like. Grant access by delegating your inbox to a teammate.