How to set up a custom SMTP inbox
Overview
When sending an email you have the choice to send emails using your own dedicated SMTP server. An SMTP server is a mailserver that you can use to send email. It stores your messages and ensures that your messages are either delivered or returned to you with a failure message.
You can set up a custom SMTP inbox in Front, meaning you want to use your own server to send messages. Follow the instructions below to set up a custom SMTP inbox.
Instructions
Step 1
Go into your Settings, select Inboxes, and Add a team inbox or Add an individual inbox.
Step 2
Select Email.
Step 3
Input your email address and name, and click Next.
Step 4
If you chose to add a team inbox, give your teammates access to the new team inbox, and click Create inbox.
Step 5
Use the forward address shown to redirect your emails, and then use the button to Send a test email.
Step 6
Scroll down in your inbox settings until you see Custom SMTP. Click the down arrow to expand the setting.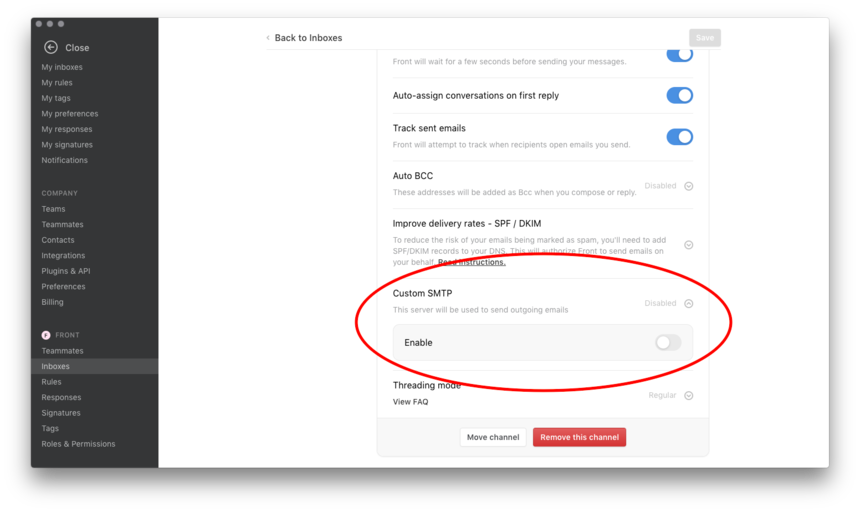 Step 7
Turn the toggle to enable it.
Step 8
Complete the fields and test your connection.
Step 9
Click Save.
This is on the same topic. We are using a CRM which automatically adds any email sent to a customer within the CRM to the activity for that customer. However this doesn't work for our team using Front, even if I setup their inboxes with the custom SMTP of our email server.

The emails also do not appear in the sent folder of the web-based email client for that email provider (Rackspace), so it seems like there is a disconnect somewhere.