How to style and add images to your signature
Overview
Within Front's signature composer you can select the Add image button to add an image to your signature. This article explains how to do so.
Alternatively, you can also customize your Front signature by inserting an internally or externally hosted image from a source like Dropbox or Google Drive, no HTML coding needed! This can be particularly helpful if your team wants to be able to update the image in everyone's signature without intervention.
Note: Front only supports common image formats for signature images.
---
Upload an image from your computer
This method will upload a static image to the signature. If you ever need to change the underlying image, you'd need to re-upload the new file.
Step 1
Go to Settings > My signatures > Add a signature, or select an existing signature.
Step 2
Click Add image > select a file from your computer.

Step 3
Click Create or Save.
Note: if you're seeing broken images in your signature when sending messages, and you used the method above to add your image, try editing your signature and re-uploading the file or using an externally hosted image instead.
---
Use an externally hosted image
This method is recommended if you want to have a dynamic image in your signature that will update when the underlying file is overwritten. If your team frequently has to ask users to update their signatures, you may want to use this method.
Step 1 
Go to Settings > My signatures > Add a signature, or select an existing signature.
Step 2
Click the three dots at the bottom left > Insert image.
Step 3
Copy/paste the image's public URL > OK.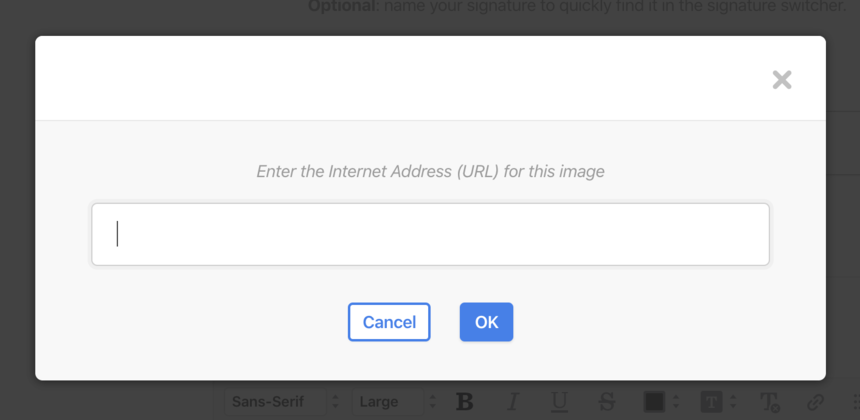 💡 While it is recommended that you host the image on your own server, check this out for some references for how to get your image URL from popular services like Google Drive, Dropbox, Imgur, and OneDrive.
If you see a broken image icon it probably means you haven't set your image to be visible to the public so review the settings on your hosting service and try again.
---
HTML signatures
If you need a very customized and styled signature, you can use HTML to create it. In the signature composer, switch the mode from Mode: Visual to Mode: Raw  and input your HTML . Then, switch it back to Mode:Visual to view the signature. 
If your teammate already has an existing custom signature format you'd like to use, you can ask them to toggle to Mode:Raw and send you their signature HTML so that you can insert it in your own signature. You can do the same with any team signatures you'd like to copy.