Automatically join an existing Front company
📣This feature is currently available for new Front companies that sign up on or after April 15, 2019. 📣
Overview
When you sign up for a Front account, we will automatically detect if there are other people at your organization already using Front based on your email domain. If there's an existing Front company for your email domain, you'll get the option to join that account as a new user. You can also always create a new, separate Front company account.
If you're an admin for an existing Front company, you can enable or disable this option in your account settings. When enabled, you will be billed automatically for new users who join your company account.
---
How it works
Enabling users to join your company automatically
If you sign up for Front using the Google or Microsoft sign-in method and your email domain is brand new to Front, you will create a new Front company account. There will be a checkbox during this process to enable future signups from your email domain to join your account automatically.
All new users must be validated using Google or Microsoft sign-in in order to join your account, so we can be sure they are a member of your organization. If you want to opt-out, you can uncheck the box to disable this feature.
How to change your domain login settings
You can enable or disable this functionality in your company settings. When enabled, you will be automatically billed for new users who join your Front account.
Step 1
Click Settings, then Preferences in the Company section.
Step 2
Click on the Domain login tab.
Step 3
Turn the toggle to disable or enable the ability for users to automatically join your account. Gray is disabled, and blue is enabled. If your company has multiple email domains connected to Front, you can choose which ones to allow using the checkboxes.
Step 4
Click Save.
What do new users see?
When a new user signs up for Front with their Google or Microsoft login, we will show the matching Front company account so that they can confirm whether they'd like to join it. They will also have the option to create a new, separate company account.
If they join your existing company, in the app they will see their individual workspace and can connect their individual work email. An account admin will need to invite them to join team inboxes, or make them an admin to let them create their own.
Notifications
Company admins will receive a notification email when new users join their company account, so that they can configure the new teammate's settings and access.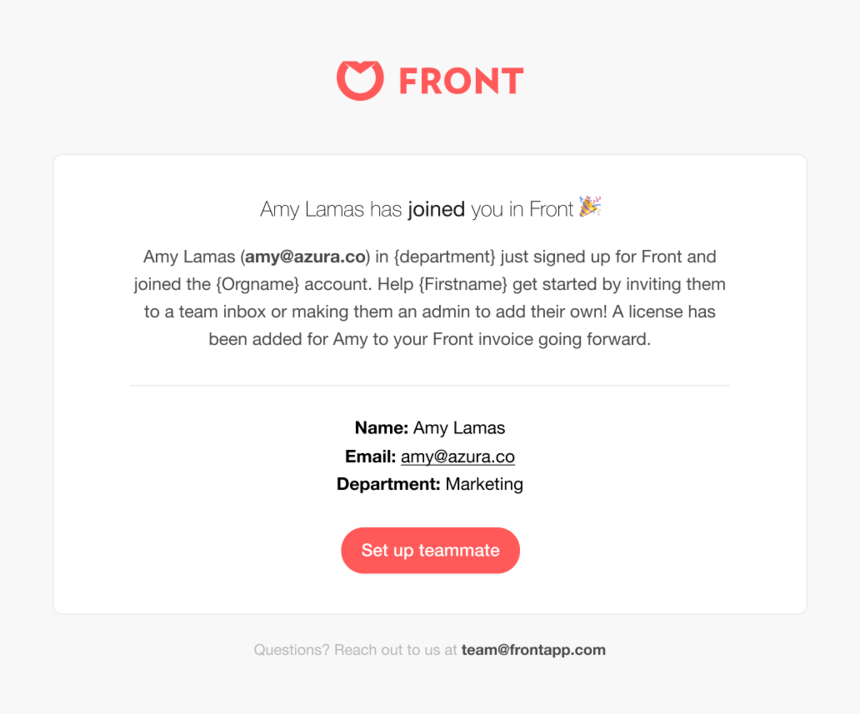 You will also receive a email invoice from Front adding the new user to your plan. Like when you invite a teammate manually, you will be billed the pro-rated amount for the new user for the remainder of your current billing cycle, and they will automatically be added to your next bill.