Inbox report
Overview
The Inbox report allows you to look at all your inboxes at once to ensure nothing falls through the cracks. It is crucial to understanding the total volume of communications occurring, what is new in that volume, and what has been resolved.
For any given time period, you can see right away:
Volumes of communications (Conversations, Message received, Messages sent)
New workload (New conversations, Conversations moved to inbox)
Finished workload (Resolved conversations, Archived conversations, Conversations moved away)
Workload still open (Unresolved conversations, Open conversations)
---
Anatomy of the Inbox report
Featured metrics
Featured metrics are calculated for All inboxes:
Conversation graphs
All graph metrics are calculated for All inboxes. Use the dropdown menu to select one of the following graph views:
Archived conversations
Open conversations
Detailed metrics table
Unresolved conversations*
% Resolved on 1st reply*
*These terms are not displayed on the table by default. Click the 3 dots on the top right of the table to select them to view.
---
Create an Inbox report
Step 1
Click into Analytics.
Step 2
Click on the + button to create a new report.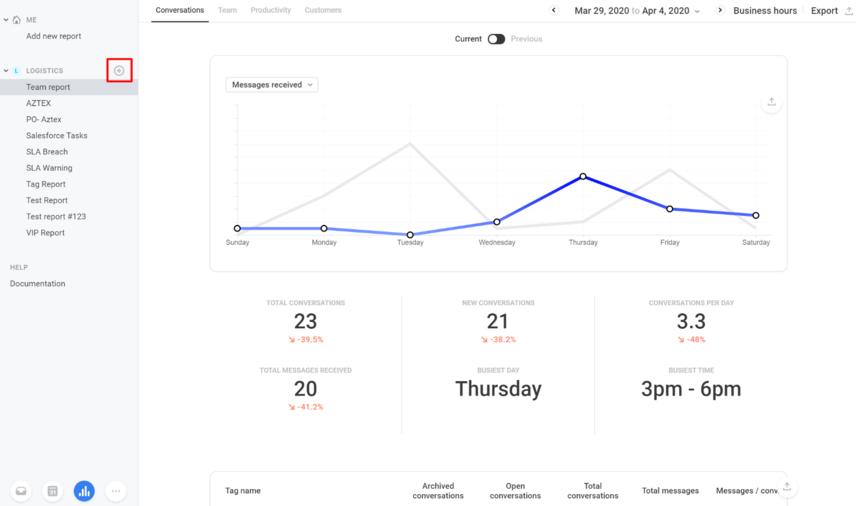 Step 3
Under the Type dropdown, select Inboxes.
Step 4
Use filters to further narrow down specific Inboxes, Channels, Teammates, or Tags.
---
FAQ
What happens when a conversation moves to another inbox?
The Inbox report is meant to track moves between inboxes, and what happened in an inbox before it moves away. As a consequence, metrics will reflect what happened in the inbox the event happened in, not the inbox a conversation currently is in.
Ex: a conversation resolved in inbox A and then moved to inbox B will count as a resolved conversation for inbox A only.