Deliverability settings and SPF/DKIM records
Overview
What are SPF/DKIM records?
SPF/DKIM records are industry-standard security mechanisms that authorize Front to send emails on our customers' behalf. When you add an SMTP email channel, it's critical to correctly configure SPF/DKIM records for your email domain because they reduce the risk messages you send from Front will be marked as spam in your recipients' inbox.
Impact
SPF/DKIM settings do not impact your ability to receive emails in Front. If you have validated your email channel in Front, any emails received by that domain will appear in Front. However, these settings are important to ensure that emails you send from Front are not marked as spam in your recipient's inbox or caught in their spam filters.
We will display warnings to keep this top of mind if you have not configured your SPF/DKIM records for channels that require them. If you are using a Google Group or other channel using email redirection, you should add SPF/DKIM records for your domain. If you are using a Gmail personal account channel, or Office365 sync channel, you do not need to worry about SPF/DKIM records as we rely on the Gmail and Office365 APIs to send and receive email.
Instructions
Whenever there are missing SPF/DKIM records for an SMTP channel, all members of the team will see prominent warnings in the app indicating this setup step has not been completed.
Follow these steps to add your SPF/DKIM records for each domain you are using to send emails from Front. There is one Deliverability settings page visible to company admins where you can configure records for all your email domains in one place. If you are not a company admin, you will not see this settings page and will need to get your admin's help.
Step 1
Go into Settings and locate your company settings section on the left.
Step 2
Click on the Deliverability tab. Here, company admins can configure SPF/DKIM records. This page will only be visible to company admins after they add at least one SMTP channel.
Step 3
You will see a list of your SMTP channel domains under Domains on the left. Any email domains with missing SPF/DKIM records will have a yellow warning icon.
Step 4
Add your SPF/DKIM records for each channel with a warning icon. The instructions are specific to the DNS provider you use. Here are instructions for the most popular types:
Step 5
When you've successfully added the SPF/DKIM records and you click the "Check DNS settings" button, the warning icon will be removed from the channel name in the list and the DNS records will say "Verified".
Warnings
If an SMTP channel uses an email domain that does not have SPF/DKIM records set, a warning will appear in your inbox where that channel is housed. When you click into the inbox, there will be a banner across the top explaining the issue.
If you are a company admin, the banner warnings will be linked to your Deliverability settings page, where you can configure your SPF/DKIM records.
If you are a team member or team admin, you will get a popup with a template email to send to your IT team and your admin because you do not have the appropriate permissions to make these changes.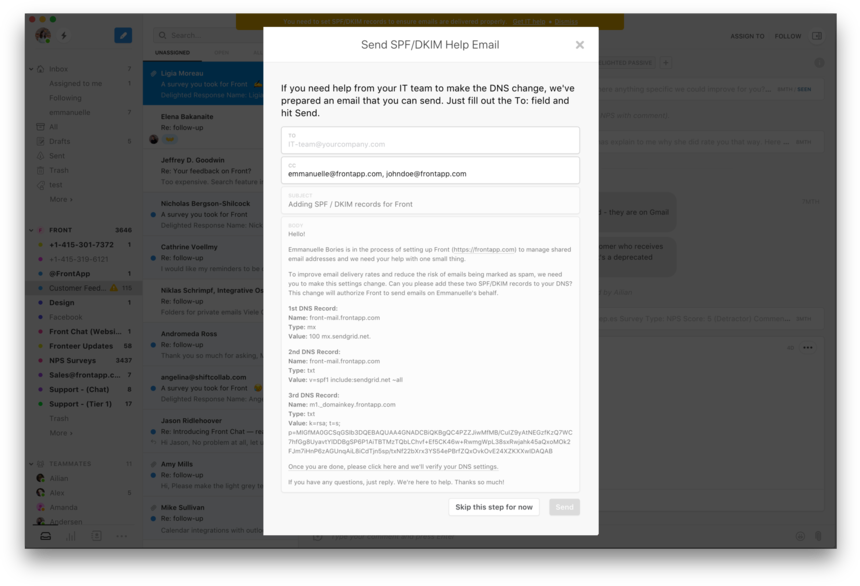 A warning icon will also be shown on the inbox in your inbox settings. This will be shown for all team SMTP channels and individual inboxes where the SMTP channel is the same domain as a team channel. If you have set up an individual inbox with a different email domain (i.e. a "non-work" email), these warnings will not be displayed.
Note: Wix, HostGator, SiteGround and Squarespace don't support creating the required MX record. If you need to use one of these DNS providers, we recommending configuring custom SMTP for these channels to send mail via your own mail servers, using your existing DNS records.