How to enable and use the Slack integration, including Slack Actions
Overview
Like other integrations, you need to be an admin in order to enable the Slack integration.
With the Slack integration, you can manually send messages from Front to Slack, or define Front rules that post conversations in Slack for you automatically. You can use message buttons in Slack to archive or re-open a conversation, assign it to another Front teammate, or move it to another Front inbox.
You can also use Slack message actions to create new conversations in a Front team inbox. Instead of sending yourself an email or setting a reminder, just send the Slack message to Front as a new conversation for follow up later.
---
Instructions
Step 1
Go into your Settings and select Integrations. Scroll down the list, and click on Slack.
Step 2
Turn the toggle on to enable Slack. Click Sign in to Slack and link your account to authorize the integration. This will allow you to send Front conversations to Slack, where they'll be posted by a Front bot in your Slack workspace.
You can also turn the second toggle on to Enable interactive message menus. This will allow any user in Slack to use message buttons to assign, move, or archive the Front conversation that was sent to Slack. If you do not turn on this toggle, then messages will be posted to Slack without these buttons.
Step 3
Click Save to finish enabling the Slack integration.
---
Using the the integration
Send messages to Slack automatically with rules
Step 1
To create a rule, go into your Settings, select Rules, and Add a team rule.
Step 2
Set up your conditions (more information can be found in the Understanding rules article), and choose the action Send to Slack (listed in the Then section). You will be able to send a notification to a specific Slack channel or to a specific user.
Send messages to Slack manually
Step 1
You can also send individual conversations to Slack on a one-off basis to share them with your team.
Click the three dots in the top right corner of a message, and select Send to Slack.
Step 2
Each teammate will be prompted to link their Slack account the first time they do this. Then, they can add a comment and choose a destination channel or DM. When you're done, click Post to send your message to Slack.
Assign, archive, and move conversations from Slack
You also have the option to use Slack message buttons to take action on your Front messages from Slack. When this option is turned on, any member of the Slack channel where you've sent the message can assign, move, re-open, or archive the message directly from Slack.
Step 1
Message buttons are enabled at the company level for Front accounts — so your admin will choose whether this functionality is enabled for every message sent to Slack by anyone on your Front team, or not enabled for anyone. You can turn off this functionality at any time in your Slack integration settings.
Step 2
Once this is enabled, anyone in the channel can use message menus to choose a teammate to assign the message to or move it to another inbox. The Archive button will dynamically change to Re-open if the message has been archived. All your actions will be synced with Front in real time.
Creating Front conversations from Slack
In addition to sending Front messages to Slack, you can also create new Front conversations from Slack.
Sometimes messages come up in Slack that you want to handle later or track with other customer conversations — like when a teammate pings you asking for an update on a big project, or a bug is reported that you're tracking already in Front.
Now, you can create Front conversations from those Slack messages to handle them in team inboxes. Once the Slack integration has been enabled for your team by an admin, you'll need to add the Front message action yourself too. Only users with Front licenses can create Front conversations from Slack in team inboxes.
Step 1
The first time you use this action, you'll need to set it up. Click the three dots on any message. You'll need to find the Front action for the first time by clicking on More message actions.
Step 2
Search for Front, and click on the Create a conversation Front action.
Step 3
Front will post a message asking you to connect your individual account. Click Connect to Front, then Authorize in the popup screen.
Step 4
Now, you're ready to start creating Front conversations from Slack. The Front message action will be at the top of your list after you authorize, or if you've used it recently.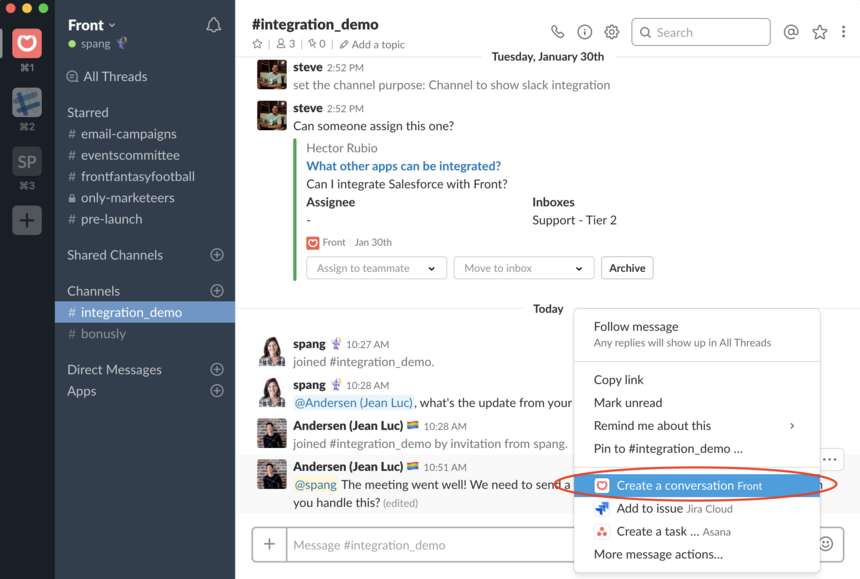 Step 5
In the popup form, choose what team inbox you want to create the message in. You can also choose an assignee, leave it unassigned, and edit the subject line or message body if you want. If you are sending a Slack attachment to Front, we created Front conversation will include a Slack link that can only be accessed by users who have access to the original Slack attachment. Click Create to send it to Front.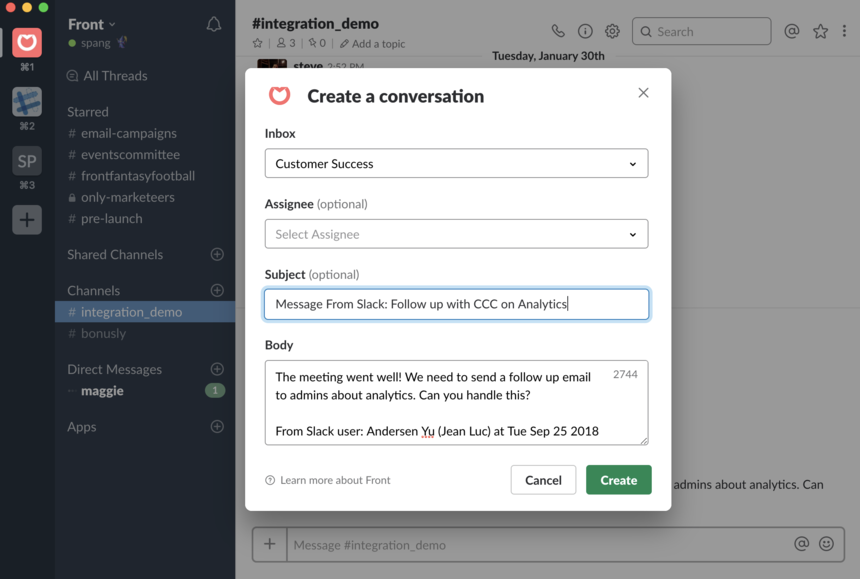 Step 6
In the Slack channel, you'll see a link to quickly open the conversation in Front, or you can find it later in the inbox where you created it! From there, you can comment or assign it just like any other conversation in Front.
I set up a rule with a "Send to Slack " action and it doesn't work. I even added another action with it (To assign the email to myself) to see that the rule "catches" the email properly and it does. The email is not sent to Slack though. The Slack integration does work, when I use it manually and not with a Rule.

Adam Rosenthal This might be better to handle through email. Could you please provide me with name of the rule and the conversation ID for the message you are experiencing these issues with? You will need to click on the "i" next to the subject line, and copy the Conversation ID. Please share it with us so that we can investigate.

What would really be great is if the Slack Integration could pass something along, beside just quoting the conversation in Slack. That doesn't tell us what/why the conversation is passing into Slack, and we'd increasingly like to use the Slack integration for specific notifications.

For instance, I have setup a number of Rules that alert us to various customers, time-based (SLA) scenarios, and more. These were originally set to post to our #support-team channel in Slack, but then, we quickly got slammed with them and didn't necessarily know which Rule was triggering the Slack notification.

I'm looking into creating specific Slack channels, just for each Rule, but that's a lot of back-end Slack work. Would be great if FrontApp would just allow us to have a "Short Title" message for each Rule that gets passed into the Slack Notification. For example, "Unassigned Over 2 Hours" as the Slack notification Title.

I am trying to set a rule to send new messages of a particular type to a Slack user. Slack is successfully enabled and I am able to successfully save the rule if sending to a channel, however notifying/sending to a particular user does not seem to work. I receive the message which says "Unable to validate Slack username, please reauthenticate your company integration", but the integration is already authorised as it will allow me to send to a channel? Would this have something to do with different workspaces, as we have multiple? (However should preface this by saying that the channel I am able to successfully send to is within a different channel).

Carla Ferrari Apologies for not seeing your message earlier! Your post ended up in the forum spam box, but please email us at support@frontapp.com or chat us if you're still having this issue and we can look into your account for you :)