SLA rules
Overview
Service-level agreements (SLAs) are common in businesses to maintain a high standard for response times to customers. Whether you have internal response time goals for your team or formal SLAs with your customers, Front will help you reach them. Front's SLA rules are like guardrails for your inbox, so you and your team can respond to every customer in time. Just set your response time goal and when it should apply, and Front will take care of surfacing urgent conversations for your team to reply — even before a breach happens. You can easily create automations to warn your team about potential SLA breaches, tag any breached SLAs, and track analytics for your SLAs.
You need to be a Company Admin or Team Admin to create SLA rules in Front.
---
How it works
The SLA rule builder consists of three parts:
1) Scope
By default, all SLA rules will include any inbound and moved conversations.
From there, you can define the scope more, such as choosing the inboxes, whether the contact is in a specific contact group, etc.
The Advanced toggle will open up more, lesser-used options for the scope.
2) Time limits
Set how long your SLA breach is.
Set how long your SLA warning should be, so that you are notified before officially breaching. Note that the warning time must be less than the official breach time.
Set up your business hours if you'd like, which will allow you to set up different breach times for inside and outside of business hours. Note that changing your business hours will impact your analytics.
3) Actions
Choose the actions that will automatically occur when the breach or warning time is reached, such as notifying teammates or notifying the assignee.
The Add tag action is mandatory, as this is part of the SLA workflow and allows for analytics.
You can add multiple actions.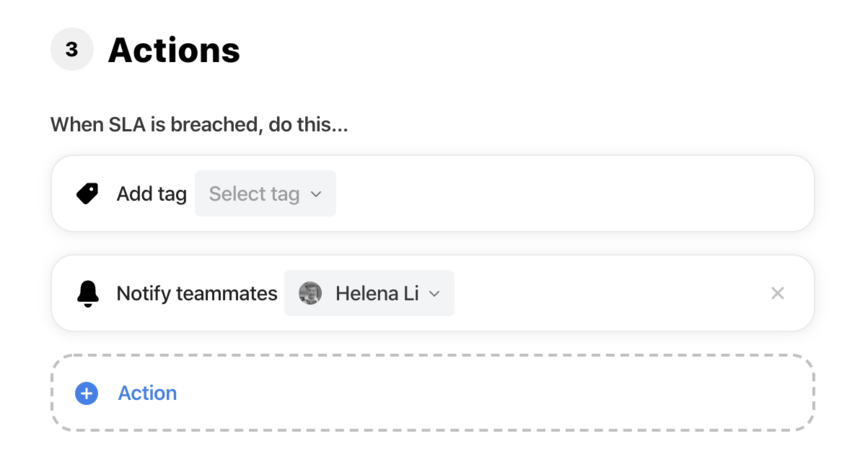 ---
Instructions
Step 1
A Company Admin or Team Admin will click into Settings and Rules and SLA. You will see a tab for All rules and one for SLA rules.
Step 2
Click the New SLA rule button at the top.
Step 3
Now start building your SLA. First, give your SLA a name.
Step 4
Then, choose the Scope for the rule. Here is where you select which inboxes and other conditions for the rule. By default, all the conditions are And type conditions.
To use Or type conditions, toggle on the Advanced option on the top right.
Step 5
Next, set the Time limits for the rule, which is where you define the time frame of the SLA breach. For instance, if you want your team to respond to customers within 2 hours, then you would set this time limit to be "Conversation is unreplied after 2 hours." You also have the option to set up a warning for the SLA breach sooner than 2 hours, so that your team gets notified before the breach occurs. Note that you can also set up and adjust your business hours directly in this step by clicking Edit business hours, and set your SLA rules to operate within or outside of those hours. Be aware that changing your business hours here will sync to and impact your analytics.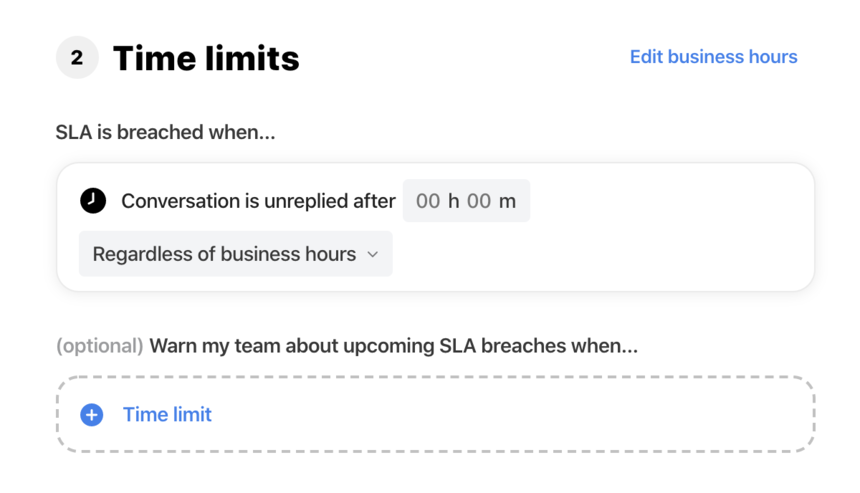 Step 6
Choose the Actions that you want to carry out with the rule. You will see the first action Add tag as a mandatory action, and cannot be removed. Here, you will choose the tag you want to be added for the breach. We suggest a tag such as 🔥SLA Breach; if you don't have a breach tag created yet, you can create it like this.
You can also add additional actions such as Assign, Notify, Move, and more.
Step 7
Click Create SLA to save.
Step 8
Pin the breach warning and SLA breach tags to your workspace so you know about breaches. Here is how.
Reporting
SLA rules have their dedicated reporting. You can find out more on the dedicated article: SLA report
---
FAQ
If I change business hours on the Analytics screen, will it automatically update SLA rules?
Yes, updating your business hours from the Analytics screen (as opposed to updating them in the SLA builder) will sync to the SLA builder's business hours as well. Note that this change could impact conversations currently in progress with your SLA rules and cause the rules to not run if they do not align with the new business hours.
Why did my breach tag disappear from the conversation?
When you reply to a message that has breached, Front will automatically remove the SLA Breach tag or SLA Warning tag, as the conversation is no longer actively in breach. This allows for the next incoming message from your customer to go through the SLA flow. The goal of the breach tags is to alert you that a conversation is actively in breach and needs action; once you respond, the tags will automatically be removed.
Do SLA rules work on archived or snoozed conversations?
No. If a conversation is archived, SLA rules do not apply. For example, if you receive an inbound message and a teammate archives or snoozes it, SLA rules will not apply.
When customers email multiple times before we can respond, does it reset the SLA timer?
No, it will not reset your SLA timer. Your SLA will trigger based on when the first message that meets your SLA conditions was received; in other words, the SLA rule works on the oldest unreplied message in the conversation.
Does snoozing pause an SLA rule?
No, the SLA timer continues to run and is not impacted by snoozing.
Example: Your team has a 1 hour SLA rule set up.
WHEN: inbound
IF: unreplied after 1 hour
THEN: notify [manager] and assign round-robin
If an email arrives at 9 am and is snoozed for 30 minutes (reopens at 9:30 am), the time-based rule will be applied at 10 am if no one has replied.
Will the SLA rule pause when business hours end, then restart?
Yes. If you select Within business hours under Time limits, the SLA timer will only run during business hours. For instance, with a 4-hour SLA limit and 8am – 5pm business hours, a message arriving at 4pm will breach its SLA the next day at 11am; Front will count 4 business hours and not include your off-hours.