How to set up a Twitter inbox in Front
Overview
Setting up a Twitter inbox in Front enables you and your team to send and receive tweets in Front. Like other kinds of Front conversations, you can assign, tag, and comment on tweets to manage Twitter as a team.
Remember that messages from a Twitter inbox will be subject to Twitter's 280 character limit. You can also retweet or like posts directly from Front.
Note: You need to be an admin to add Twitter as a team inbox in Front. Your account must also be on a paid Front plan and below your limit of Twitter and Twitter DM channels — see below.
---
Instructions
Step 1
Go into your Settings, select Inboxes, and Add a team inbox.
Step 2
Select Twitter in the list of inbox types.
Step 3
Click Connect to Twitter. If you'd like to create a DM channel for the same Twitter account (handle), you can do that now by turning the toggle on.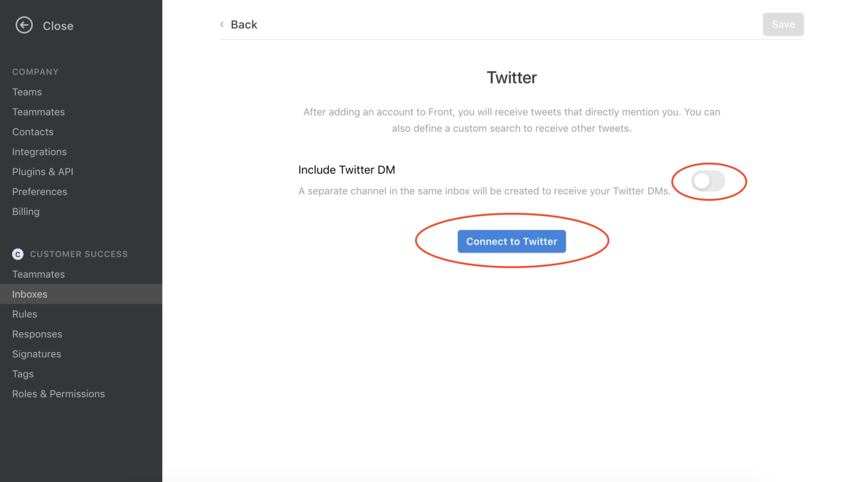 Step 4
In the pop up window, authorize Front to use your Twitter account. Then click Save.
Step 5
Select which teammates should have access to this inbox, and click Create inbox.
Twitter account limits
As of August 2018, Twitter will charge a new monthly fee to all integration partners for API access for each Twitter handle connected to their platform. Consequently, Front limits the number of Twitter and Twitter DM channels connected to each Front account to avoid charging our customers an additional fee for using Twitter with Front at this time.
Trial customers
If your team's account is on a free trial, you will not be able to connect a Twitter account to create a Twitter or Twitter DM inbox until you upgrade to a paid Front plan.
Paid customers
Customers who purchase Front on or after August 7th, 2018 can connect a maximum of 4 Twitter and/or Twitter DM channels in Front.
In most cases, customers who purchased Front before August 7th, 2018 are grandfathered in with the number of Twitter and/or Twitter DM channels connected to their account on August 7th. They can connect up to 4 additional Twitter and/or Twitter DM channels as their account grows. For example, if you have 2 Twitter channels as of August 7th, your account limit going forward is 6 Twitter channels.
In the meantime, Front will remove inactive Twitter and Twitter DM channels on August 14th, 2018 so that we do not incur unnecessary API fees.
A Twitter channel is considered inactive if a tweet has not been sent or commented on in the last 3 months.
Inactive channels will be automatically removed from Front on August 14th, 2018. You will not be able to send or receive tweets going forward, but all of your Twitter inbox history will be saved in Front.
If any of these Twitter channels are critical to your team's workflow, you will be able to reconnect them after the channel is removed on August 14th following the instructions above.