How to use teammate templates
Overview
Teammate templates make setting up new users simple. Add templates
for common roles in your company, like Account Manager or Support Agent, with all the settings they need to get work done in Front. When you hire someone new, use the template to set them up with the configuration they need in a few clicks.
You can also clone settings from an existing teammate.
---
How to create or edit teammate templates
Step 1
Open Settings, go to the Teammates section, then click Teammate templates.
Step 2
You will see a list of all teammate templates to edit them, or click Add a template create a new one.
Step 3
Give your template a recognizable name, like the role of the user it will be used for. You can also choose to clone an existing teammate's settings to create the template.
Step 4
Click Save. 
Step 5
From here, edit the template's inbox access, preferences, canned responses, signatures, and notification settings. Click Save when you are done. You can also go back to edit templates at any time.
How to use a template to invite a new user
Teammate templates make setting up new users simple through cloning. You can use them when inviting a new user:
Step 1
When adding a new user, click the dropdown for Clone from teammate.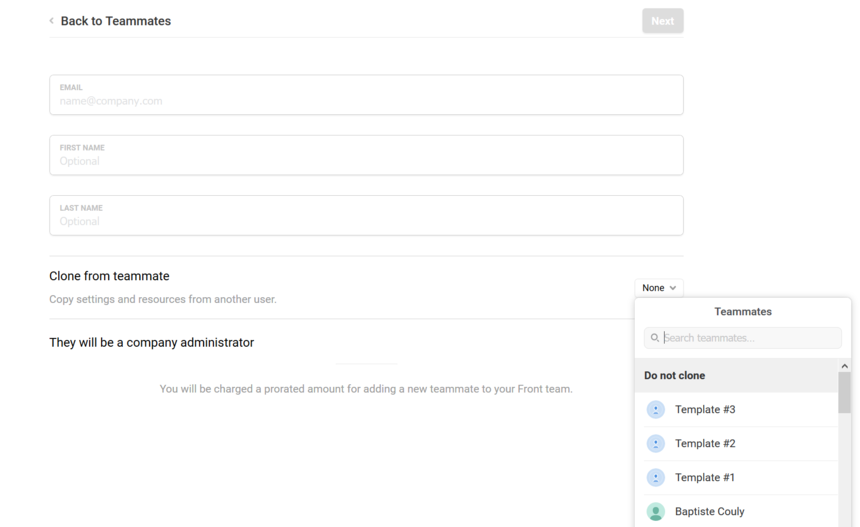 Step 2
Your teammate templates will show up at the top of the list. Choose your template and finish inviting the user to configure their settings with the template.
Note
Cloning from a teammate template works the same way as cloning from a regular teammate. However, regular users often update their preferences or gain new permissions as they use Front more and more, so they may not reflect the configuration you want for the new user. Teammate templates are designed to allow you to control your new user settings to ensure they are configured correctly. 
Pricing
This feature is available on the Enterprise plan or above. Some legacy plans with different names may also have this feature. You are not billed per teammate template that you create.