How to create and message a contact group
Overview
Front's contact groups make it easy to email a group of people at the same time. In order to personalize emails to a group of people, utilize Sequences. You are able to create contact groups using the steps below, or by uploading a .csv of your contacts.
---
Instructions
Create a contact group
Step 1
Go into your contacts in Front.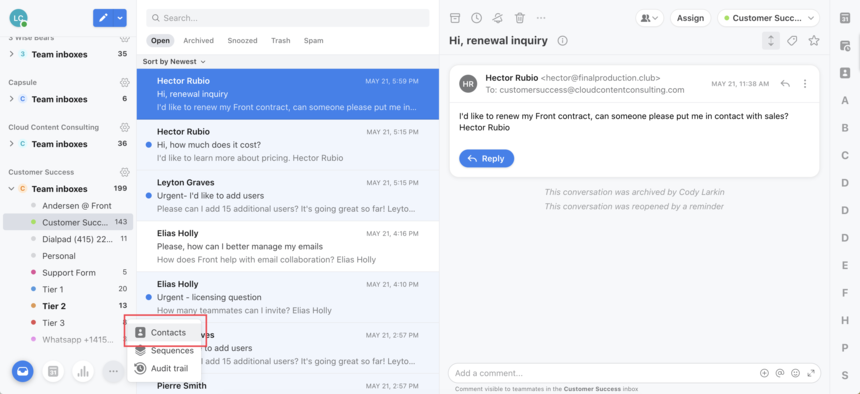 Step 2
There are two ways to create a new contact group.
To create a contact group from a Team:
Click the + sign next to a Team name on the left.
Then, enter a name for your contact group and click Create group.
To create a group from an individual contact's details:
Click the + sign underneath the contact's name, then select Create a group, and follow the prompts to create a new contact group.
Add a contact to a contact group
You can add a contact to a contact group from your contacts list, or from a conversation.
From your contacts list:
Step 1
Go to your contacts in Front and select a contact.
Step 2
From the contact's details, click the + sign under the contact name to bring up a list of your contact groups. Click a group name to add a contact to that group.
From a conversation:
Step 1
Open a conversation in your inbox, and click the contacts icon on the sidebar to bring up the contact's details.
Step 2
Click the pencil icon at the top right of the contact details to edit this contact.
Step 3
From the Edit contact page, scroll down to Groups and click Add.
Step 4
Select the group you'd like to add your contact to, then click Save.
Message a contact group
Once the contact group is created, you can compose a new message and enter the group name into the To: field of your message.
Daniel Swift Hi there! What you can do is create an analytics report for the tag in question, and run an analytics export of that report to retrieve all of the contact handles. From there, you can copy/paste the contacts to a new email, or create a contact group and send an email to that group. Does that help?

Thanks Cori. I really appreciate the response!!!! :)

All my stuff is with text message conversations, and I dynamically apply tags to these with rules.

Would this manual analytics report work for texts? and how would I manually send a text to 100+ people?

And would I not need to re run this report all the time to update the group / send list based off who has tags applied?

Daniel Swift Hey Daniel! You can run an export of your report by following the steps here: https://help.frontapp.com/t/367yxj/messages-export

In the export, you'll see a column for "Contact Handle." You can copy/paste that column to retrieve a list of handles!