How to set up and use the Instabug integration
---
Overview
Instabug allows mobile app users and beta testers to report bugs and send feedback about your app directly from their devices.
When you connect Instabug with Front, all Instabug issues will automatically be sent to a team inbox in Front with all the details you need. Your team can see bug reports, send updates to your users, and ask follow up questions without needing to switch apps.
You need to be an Instabug customer to set up this integration. If you are not already using Instabug, sign up for a trial here. You will also need to be a Front Company Admin, and your plan must include API access.
Instructions
Step 1
In your Front Settings, scroll down to Plugins & API, then click API.
Step 2
Click New Token, and create a new API token for Instabug with the "Shared resources" scope. Copy this token.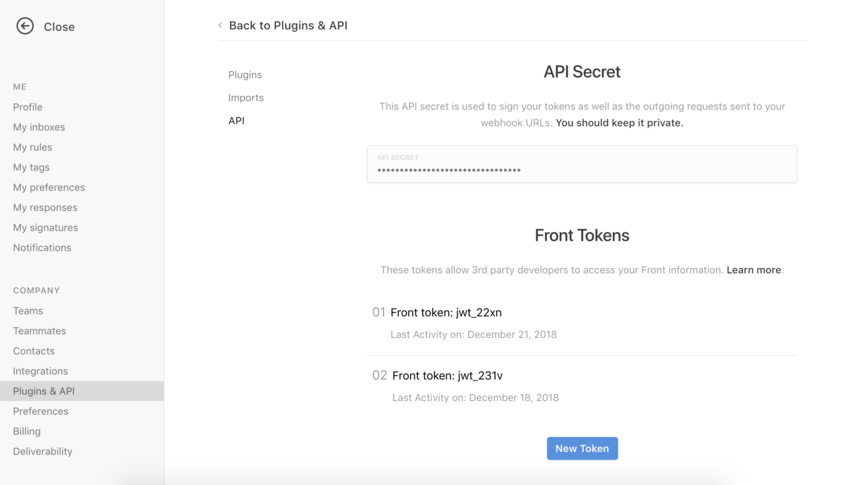 Step 3
Log into your Instabug account. Select Integrations in your Instabug settings menu, and choose Front from the list.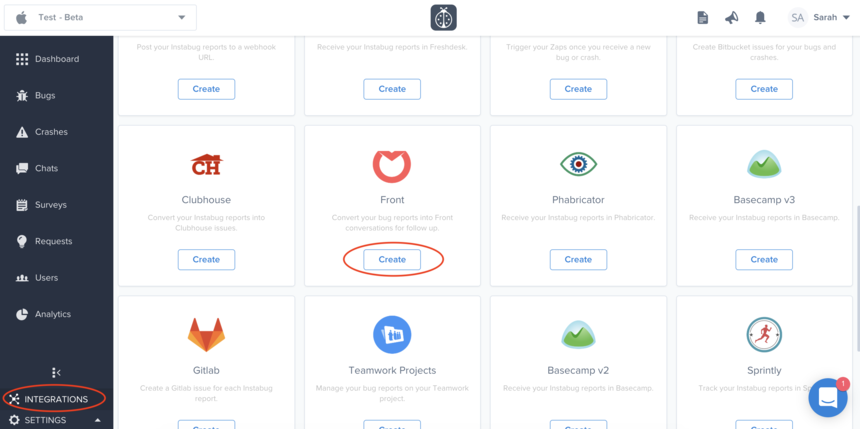 Step 4
Paste your copied Front Token in the field labeled Token, then click Continue.
Step 5
Choose the inbox you want your Instabug messages to go to in Front from the dropdown menu (such as your "Support" inbox, or an empty inbox named "Instabug").
Step 6
To choose what information will be displayed in the message in Front, click Edit. Check or uncheck your desired fields and click Save.
Because these fields will populate the content for the body of the message, they will be visible to the user who submitted the bug when you reply unless you manually delete them.
Step 7
Click Test your integration. Instabug will send a sample bug to your chosen inbox in Front and will let you know if the connection is successful.
Step 8
Check the boxes to select whether you want to receive bug reports, crash reports, or both in Front. Then click Create.
Step 9
Messages that you receive in Instabug should now appear in the inbox you chose in Step 4. When you reply to the message, you'll send a message directly to the user who submitted the bug.
Step 10
To edit or delete your integration, click on the Front tile in your Instabug integration settings. If you delete the integration, your Instabug message history will be saved in Front unless you delete the Front inbox, but no new messages will arrive.
---
For more detailed support or to troubleshoot issues, please review Instabug's integration documentation or reach out to their support team.