Getting started with Front Calendar
Overview
Front Calendar makes scheduling meetings and managing your calendar from your inbox easy. It's enabled for your Front account by default!
Whether you're scheduling a new meeting or need to view your availability for a particular day, you can accomplish any calendar-oriented tasks without leaving Front.
---
Calendar
View your calendar
To get started, select "Calendar" from the plugin sidebar. If you haven't already, sign in with your Google or Office 365 account. Then select "My Calendar":
(Note: at this time it is not possible to sync with Exchange On-Premise solutions)
Click the "Calendars" button to select the calendars you want to view. Front syncs with your Google and Office account, so calendars that you have available in Google Calendar or Outlook Calendar should also appear in Front.
Use the down arrow and date buttons to view different days on your calendar.
Create and edit events
Click or drag anywhere on the calendar to begin scheduling an event. If you have an email open, the topic and attendees of that email will automatically be added to the event creator. Set your preferred event details, or use the lightning button to apply a meeting template, and then click "Schedule" to save the event. Front will automatically send calendar invitations to participants.
💡Note: If you are seeing a Google meeting link inserted unexpectedly, this is related to a setting on Google's side that you can adjust. Here is more info: https://support.google.com/a/answer/6188027?hl=en
Inserting calendar availability into emails
Front Calendar also allows you to insert your calendar availability directly into emails to allow recipients to book meeting with a single click: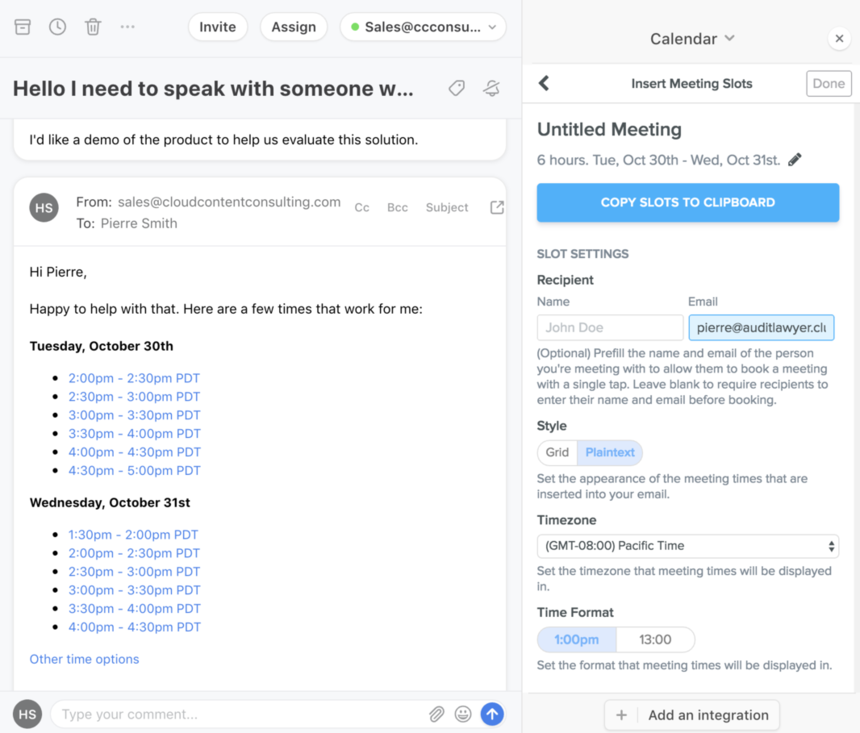 To learn more, check out our guide to inserting calendar availability.
Using scheduling links
Finally, scheduling links make it easy to share your availability with anyone, and can be used as many times as you'd like. Check out our guide to learn more.
---
Reply to calendar invites
When you receive calendar invites in your email, you will be able to manage them directly within Front without needing to open your Google Calendar or Outlook calendar. Front will show you the time, date, location, and attendees in a calendar invite widget above the corresponding invitation email.
You can click the Yes, Maybe, and No buttons to RSVP to the invite. And just like with any other Front conversation, you can also snooze, tag, assign, and more! You will also get an email update if an event is updated or canceled.