Changing your domain name in Front
Overview
There may be cases where you need to change out the email channel in Front but wish to retain the history. The reasons you might need this could be one of the following:
Change your company's domain name, and thus make the corresponding change to your email channels and login in Front.
Change your email provider from O365 to Gmail, or from SMTP forwarding to a two-way sync.
Change a distribution list address to a real Gmail or O365 inbox.
There is an easy three-part process to do this without losing any of your history:
Add the new channel into the same inbox.
Remove the old channel.
Update your Front login email.
Keep reading for specific instructions. These steps are the same for any kind of channel that you want to add or switch out, not just email.
---
Instructions
Part 1: Add new channel into the same inbox
Step 1
Click into Settings. Then click into My inboxes (under the Me section) or Inboxes (under the team).

Step 2
Click the inbox you want to add the new channel for.
Step 3
On the left side of the inbox settings, click the blue Add a Channel button. This will add the new channel into this existing inbox and will not create a new inbox.
Step 4
Walk through the steps of setting up the channel as you would with any other channel. Some popular email setups are: Gmail, O365, or SMTP.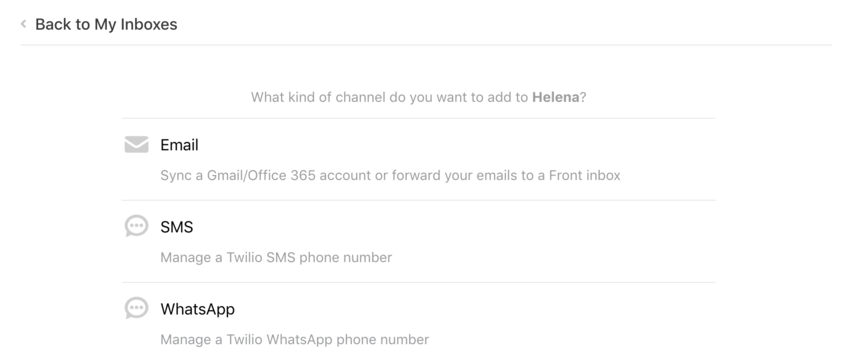 Step 5
Once added, click back to the inbox and send a test message to ensure that it comes into the inbox via the new channel.
Part 2: Remove old channel
Step 6
Once you've confirmed that the new channel is receiving messages, follow these steps to remove the original email channel, which will retain your message history. If you delete the inbox itself, then message history will be deleted and cannot be recovered.
Note: Likewise, you can remove any type of channel, not just email, from an inbox to retain the history but disconnect the channel.
Part 3: Update your login email
Step 7
If your Front login also needs to be updated to the new email address, you can click Settings and Profile. Then click Change email to update the email address.
If you use the Google or Microsoft login method, please email support@frontapp.com from your private email address so that we can disable this for you and you can update your email login.