Using Front Chat
Overview
Front Chat is the simplest way for teams to manage live chat in Front. With the Front Chat application installed on your website, messages from your site visitors appear instantly in Front for follow up from your team.
All plans include Front Chat, so all teammates with access to the inbox can chat with customers!
---
Settings
Customize your chat widget
Front Chat also allows you to customize your branding with custom colors, logos, and header greetings. You can also set an automated welcome message to be pushed to every site visitor, and enable email capture with a custom prompt.
Below is a screen shot of each setting. You can edit these at any time in Settings > Team > Inboxes > select your Front Chat channel.
Set offline hours to hide your chat widget
Front Chat will be always be visible on your website by default. If you'd like to hide your chat application when your team isn't available (such as at night), set your Offline hours in your Front Chat channel settings.
Keep in mind that offline hours hides the widget from view, but does not turn off chat if a customer already has the widget open before your offline hours started, and have not refreshed the page. Customers will still be able to send you messages in the open widget, so best practice is to use an auto-response during your offline hours to set the expectation for when they will receive a response.
Capture visitor email addresses
10 seconds after a chat is initiated, Front will prompt anonymous user to enter their email address to be notified of a response. You can disable this option or customize your prompt in your channel settings.
Recognize logged in users
If you are using Front Chat in a web or desktop application and need to identify logged in users, after adding the code snippet you will need to complete an additional step in your setup.
Copy your Verification Secret from your channel settings. This token will be required to create a server-side generated HMAC, which you will use to compute a hash of your users' emails. This hash is what you will have to send to the Front Chat API to authenticate your users — the identity verification will fail unless a user hash is provided. More technical details can be found here.
To reject messages from users not logged in to your site or app, turn on the Only accept messages from logged in users toggle in your channel settings. If you want to accept messages from anonymous visitors browsing your site, do not enable this toggle.
Manage chat conversations across multiple websites
Your custom chat application can be installed on as many pages as you wish, from a same domain. All messages will flow into a single chat inbox, and the conversation will be persistent for the customer across your entire site.
Your sessions will however not be maintained over different domains or subdomains. To share an example:
If you are managing multiple domains or subdomains, you can handle chat conversations separately for each site by creating a separate chat channel for each site.
Customize each application to match each site's branding, install the appropriate scripts, and the chat conversations for each website can be handled in separate inboxes in Front.
Managing Chat users
To edit your Chat licenses, go into your Billing settings and click Manage users underneath the Chat add-on.
Workflow
Once you set up a Front Chat channel, your team can chat with your website visitors in real-time directly from Front. Use the same rules, analytics, tags, and workflows for Chat that you use for your other channels (email, SMS, Twitter, etc) in Front.
Match visitors with your Front contacts or CRM integrations
If the user is logged in and verified or enters their email in the email capture form, Front will search for that email address in your contacts. You can tell if a visitor has submitted their email if this message appears: "User submitted their email: me@company.com".
If the email address doesn't match an existing contact, a new contact will be created in Front. If the address matches an existing contact, the chat message will be linked to that contact's details. You can view all of their past conversations by choosing Contact details in your integrations panel.
If you have any integrations enabled that use an email address to identify records, those details will be displayed on the conversation as well. This applies to Front's CRM integrations: Salesforce, Pipedrive, Base, HubSpot, and Zoho.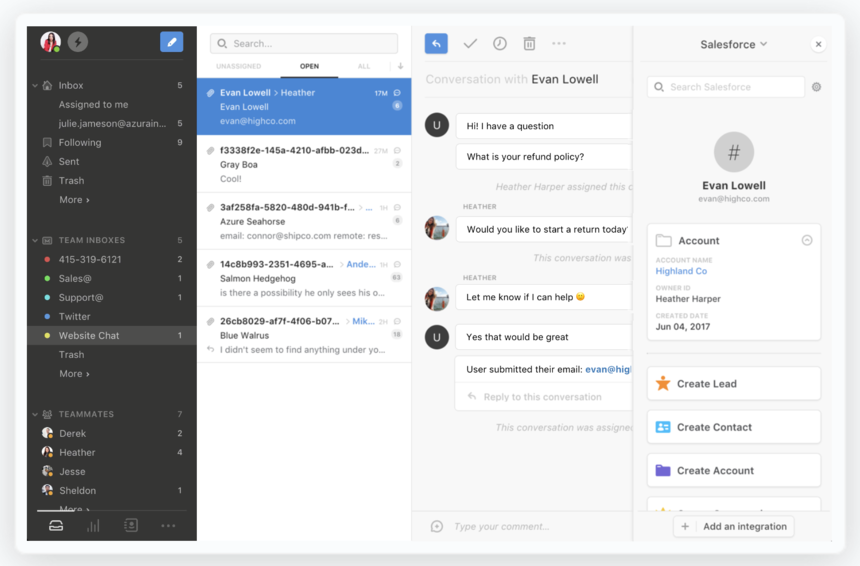 If a site visitor does not enter their email address in the "Notify Me" prompt, the visitor will be anonymous unless you are using identity verification to pass user names and email addresses.
Transition conversations from chat to email
When a visitor enters their email address in the Notify Me flow, Front can easily transition the conversation to email if they leave your site without following up.
When a Front user replies to a chat message and the visitor does not respond within 5 minutes, Front will automatically send an email transcript of the last 10 messages to the address the visitor submitted:
You can choose the email address your transcripts are sent from in your channel settings using the dropdown menu under Email capture. It must be sent from a team email channel that you have connected to Front. After setting up email capture in your Front settings, any new visitors to your site or a refresh of your site will get the email option.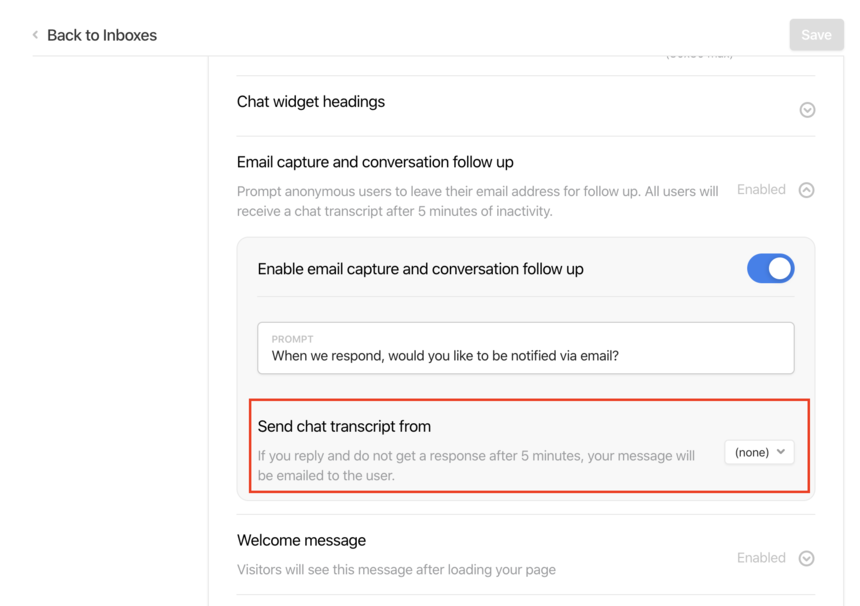 When a site visitor replies to the email transcript, the message will arrive in your chosen shared email inbox in Front. It will not be assigned to anyone, but you can use rules to assign conversations automatically (see below).
Use rules and analytics
Rules and Analytics are available for customers on Front Prime or above plans. You can use rules and run analytics reports for your Front Chat channel the same way you use them for email, SMS, or other channels in Front.
Here are some example rules for Front Chat to help you get started:
Respond to messages automatically during offline-hours
Assign chats in a round-robin
Assign email follow ups to the user who replied to the chat
For Inbox is, choose the email inbox that your chat transcripts are sent from. For Body Contains, enter the teammate's chat transcript signature. Chat transcript signatures are always "- [User] at Front."
Share content
Customize the feel of your conversations by sharing GIFs, using emojis, or sending files. Both Front users and website visitors can:
Send and receive plain text messages and click full urls

Choose attachments (image files up to 4mb) and preview images and GIFs

Send shared links to Google Docs or Dropbox files for other content types
See what page your visitor is on
Understand where your customer is on your website. Click the three dots on the right side of any message to Open visitor URL or Copy visitor URL.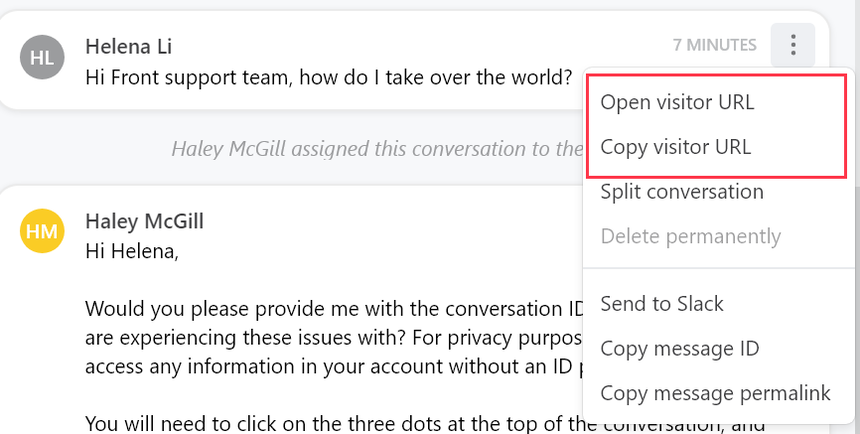 Typing indicator
You can see when a user is typing in the chatbox in real-time.

This is what the user sees when you add Front Chat to your website:

This is what you'll see when replying to the user in Front:

Lemuel, a teammate in Front, is replying to the user (named "Support Verified") from the Front chat inbox.

---
Frequently asked questions
Can I log Front chat messages into Salesforce?
Yes. You can use Front's rule engine to sync every inbound and outbound chat to Salesforce. The rule would look something like this: WHEN Inbound messages, IF Inbox is [chat inbox], THEN Send as task to Salesforce. In order for this to work, you will need to first have the Salesforce integration enabled in your settings. Salesforce will log the chat messages to the contact with a matching email address, similar to the logging email functionality Salesforce provides.